99 Miata street/ track/ HPDE 949 xida IL

04-06-2016, 08:23 PM
Junior Member
Join Date: Nov 2010
Location: Chicagoland
Posts: 158
Total Cats: 2

99 Miata street/ track/ HPDE 949 xida IL
---
Car is located in SW Chicago burbs
1999 mx-5 had tan leather interior.
4.30 Torsen car
170k miles. Had the car for over 6 years bought in Indy in 2010 with 160k miles.
Cruise control 01+ box so it works.
New ultra shield spec Miata seat, stock seat, momo supercup seat
Aftermarket Robbins style soft top
Hard dog bar HT double diagonal
FM frame rails
Ultra-shield harnesses
Motul in the gear box and rear end.
A/c works
Water wetter
Energy suspension bushings most in the box some installed.
Race alignment
All ball joints and front end gone through in the last year. High heat boots. Wheel bearings, etc
Corner balanced
Innovate Wide band, autometer temp, Innovate oil temp n pressure
New Agm battery
Miata cage Q/R steering wheel
Wing setup – dropped my laps at Gingerman by 2 seconds. 2 min track.
engine
rebuilt at 165k
No leaks
10.1 Pistons, msm cam, Rb 4-1 header, ms3 rev built, COPs, ti plugs, custom Honda intake manifold. New bearings, rings, gaskets. Hondata gasket, mishimoto catchcan.
Lw flywheel, unsprung disk – shifts very fast. New shifter bushings and boots.
Head was completely gone through new guides, valves, stem seals. By professional head shop.
Mazda comp engine mounts
Custom made k&n bumper intake
949 coolant reroute
2.5" exhaust race muffler and have a street muffler setup. Race is on the car now
Suspension & tires
949 15x9s & Nt01 225/45/15 – tons of life left.
Xida gen 2 800/500 springs – has less than 4 track days on them and no street miles.
Rb front sway 949 links f & r
Stock wheels and toyo tires
Arp studs
949 lugs
Brakes – setup works well never had problem in 20-30min sessions.
2.5" singular brake ducts
Carbotech xp10/8 n rotors
949 lines
Ate fluid
New rear calipers last year.
Car runs 1:47s at gingerman @ 2520 pounds with me in it. (Spec is 1:46.8) I think it could run 1:45s that's my goal i've been chasing at full weight) The car runs within half a second of spec time @ 2520 pound and being a street car. For reference in my experience 100 pound reduction in weight knocks off 1.5 seconds on a 2 min track.
IIRC I ran a 1:14 at autobahn north. Probably done 15-20 track days over the last few years. Car could be setup to run NASA TTD or TTE with various changes. I just did HPDEs/ autox and street drove the car rarely. Car scaled 2303 pounds wet. The car is very well maintained if it ever needed anything the car got it right away. Extra parts, stock engine parts, sets of brake rotors and pads, frankenstein bolts. And I'm sure I'm forget other parts.
Car is ready to do track days in and have fun with. Selling to change platforms.
Price: $8500. I could work on price if that's an issue by taking things off that are easy. I'm not looking to do any part out currently so don't ask. I have somewhere between $14-15k in this car I don't want to add it up but it has been a fun journey.
EDIT: I have the option to switch the xidas for bilstein HD/ eibach springs similar to spec miata setup. Price like that would be $7300.
VERY RELIABLE. I've done tons of autox and track days. drove it to FL and back no issues ever. Consumables cost pretty much don't exist. Brakes last forever and tires do as well.
email me at
[email protected]
If you're serious call or text 815-954-9019
PICS located @
99 Miata street/ track/ HPDE 949 xida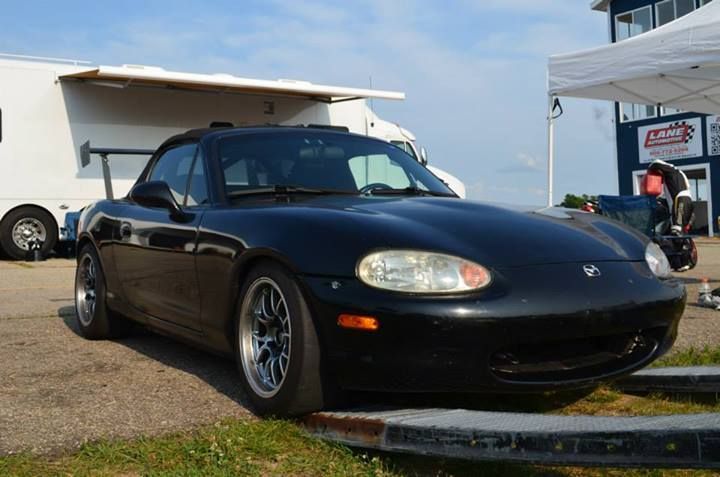 ---
Last edited by natedawg; 04-13-2016 at

07:12 PM

.

09-06-2016, 08:10 PM
Junior Member
Join Date: Nov 2010
Location: Chicagoland
Posts: 158
Total Cats: 2

---
I picked up a real miata race car. So if you want the car and some parts/ want to try to work out a deal for a lower price by taking parts off/ switching stuff around LMK. I can flexible.

Bring your own suspension -2000 off the price of the car.

Could possibly make the car a roller if one is interested.
Thread
Thread Starter
Forum
Replies
Last Post
Trackspeed Engineering - Miata Accessories