ST4 Racecar-Turbo-VVT-Aero-XIDA Triples

11-13-2018, 10:54 PM
Newb
Join Date: Feb 2017
Location: Southern Arizona
Posts: 23
Total Cats: 3

ST4 Racecar-Turbo-VVT-Aero-XIDA Triples
---
This car is currently setup for NASA Super Touring 4 and Time Trial 4 categories classed at Approximately 2400lbs and 205 Horsepower. Built in Arizona and campaigned for the last couple years it has become well known in the NASA Arizona Region and Parts of California. Highlights of success include 2nd Place TTB 2016 West Coast Championships, 2nd Place 2017 West Coast Championships in ST4 and TT4 with the winning car now being a ST3 car with the rules adjustments for 2018. This car is a National Championship level build as it sits and ready to win. The ST4 power to weight is a very balanced setup, however take some of the ballast out and a different tune it will slot nicely into ST3 and with a couple supporting mods it will fit into ST2. A very well rounded package that is easy to drive for a beginner driver all the way up to experienced racers going for the win. The car has not seen the track in 2018 as I have been focusing on a different racing program and don't have the time to campaign two cars, hence the reason for the sale. Happy to answer any questions! More detailed pictures available upon request.
Chassis/Aero:
1995 Tub with Clean Arizona Title
Chassis Acid Dipped and Seam Welded
Exterior painted "Plum Crazy" with painted Checkered Flag Graphics on Hood - Always gets compliments
6 Point Roll Cage by Insane Innovations - A Pillar Ties and NASCAR Door Bars on both sides
Fully Gutted Interior only Retaining 1991 OEM Dash
Supermiata Polycarbonate Windshield
Treasure Coast Fiberglass Hardtop - OEM Style with Poly Rear Window
OEM NA Headlight Deleted and molded into hood
Custom Air Dam and 4" Splitter with undertray - This was designed to be easily and afford-ably replicated - Will come with a spare splitter/undertray
Trimmed Rear Bumper
APR GT-250 2D Wing with CNC Aluminum Mount Stands
Custom Spec Singular Motorsports Wing Endplates
Singular Motorsports 5 Piece Hood Vents
APR Carbon GT Style Side Mirrors
Suspension/Brakes:
XIDA Gen2 TRIPLE Adjustable Remote Canister Shocks - Billet Tophats, Eibach Springs, Spring Helpers - 0 Hours on Shocks!
Supermiata Sway Bar Front and Rear with Endlinks
Poly Urethane Bushings throughout
Offset FUCA Bushings
Bauer Extended Lower Ball joints
Blueprinted Hubs with ARP Extended Wheel Studs
Stainless Steel Brake Lines
1" Master Cylinder
Wilwood Dynapro Radial Mount 4 Piston - 11.75" Front
OEM Sport Rear brakes
Operational E-Brake
Singular Motorsports Brake Ducts
OEM ABS
Supermiata Lug Nuts
949 Racing 6UL 15x10 Wheels
245 Hoosier R7
Engine/Drivetrain:
VVT Motor swap from 2003 Miata (2 Events since Rebuild)
2.0L
Supertech 85.5mm pistons, Wiseco ringpack
Carrillo A-beam rods
ACL Race bearings
ARP head/main studs
Hand-ported cylinder head
Supertech SUB lifters
Supertech valve springs/retainers
Tomei Cams
Boundary Stage 2 Oil Pump
Flat Top Intake Manifold
Skunk2 Throttle Body
Underdrive Pulley
Supermiata Harmonic Balancer
Supermiata Engine Mounts
Supermiata Crossflow Radiator - Rad & IC Fully Ducted to Air Dam
Spa Cooling Fan
Coolant Re-Route
Setrab Big Oil Cooler with Custom Ducting and Electric Fan
Custom Engine Wire Harness
AEM Infinity ECU - Pick your Power Level - Tuned by the BEST at UMS Tuning in Arizona
Flyin Miata Big E85 Fuel Kit with custom Swirl Pot
Injector Dynamics ID1000 Fuel Injectors
Custom Tubular Turbo Manifold - JDL Auto
Intercooler and IC Pipping - UMS Tuning
Mitsubishi EVO based Turbo with Internal Wastegate
Turbosmart Wastegate Actuator
Turbosmart Race BOV
Custom 3" Exhaust W/ V-Bands and options for: No Muffler, 1 Muffler, 2 Mufflers
Supermiata Race Twin Disc Clutch - New Plates Recently
Supermiata HD Driveshaft
OEM Low Mileage 6 Speed
Miata Roadsters Short Shifter
OS Giken LSD with 3.66 Rear Gear
Interior/Misc:
Sparco Pro ADV Seat
6 Point Racequip Harness
Race Technologies Dash Pro 2 - Canbus Connection, GPS, Data Logging, etc.
ARC 8000 Switch Panel
Kill Switch
Sparco 383 Suede Wheel
NRG Quick Disconnect
Fire Extinguisher
Custom Ballast Weight racks
Window Net
Wide Angle Rear View Mirror
Helmet Hook
NASA Race/TT Log Book
Spares:
(2)Additional Sets of 15x10 6UL Wheels with 245 Hoosier R7s
Pre-Fabricated Splitter/Undertray
5 Speed Transmission
Front Brake Caliper Mounts
Miscellaneous Sensors
OEM Driveshaft
OEM Sport Front Brakes
Located in Southern Arizona
Asking Price: $25,000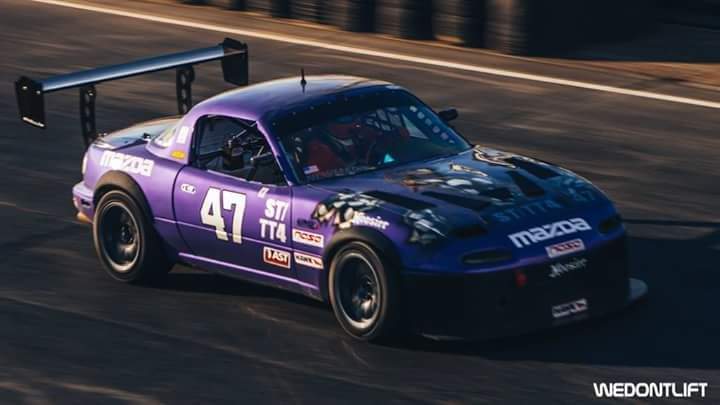 11-15-2018, 06:29 PM
Supporting Vendor

Join Date: May 2005
Posts: 6,028
Total Cats: 1,744

---
Bump for a well prepped and very quick car.

GLWS

What's next for you guys?
__________________
www.facebook.com/SuperMiata
949RACING.COM
Home of the 6UL wheel
.27 SNR
Thread
Thread Starter
Forum
Replies
Last Post
Suspension, Brakes, Drivetrain