TS Rookie

12-19-2017, 01:01 AM
Newb
Join Date: Sep 2015
Posts: 40
Total Cats: 1

TS Rookie
---
So after purchasing my third Miata (1991 already boosted), I finally got around to purchasing a USB to serial adapter to connect the MS2PNP to my Macbook Pro.
Car was previously tuned, it's supposed to be tuned to 10 psi and at 10 it runs rich af (9s at WOT) and feels like it bogs, and well it sounds...weird..
Does around 12-13 afr all throughout cruising, and sometimes at idle. Running a BEGI Alpha/omega kit with COPS, 460cc inj (got 1000cc and flex fuel sensor waiting for e85) and a china charger (Got a GT2560Rs with a billet wheel waiting to go on)
Did a little bit of data-logging, and tried out the Autotune for a little bit, and I think it fixed the idle a little...
Nonetheless, I'm no tuning expert, and hardly know what I'm doing so I didn't want to make any "drastic changes"
Anybody on here know how to "tune" or just all around know more about tuner studio?
Got the full version of TS and MLV HD, and team viewer ready to go

12-19-2017, 08:59 AM
Moderator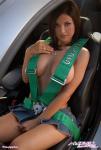 Join Date: Nov 2008
Location: Tampa, Florida
Posts: 18,907
Total Cats: 2,364

---
There's a really ornery moderator here on the Forum who does a lot of remote tuning that you should probably contact. He is very likely the one you are looking for. His Forum name is
18psi
.

12-19-2017, 09:08 AM
Senior Member
Join Date: Dec 2010
Location: Farmington Hills, MI
Posts: 1,146
Total Cats: 152

---
Start reading up on the wealth of knowledge here, the manual, on msextra.com, youtube, and Google. When you think you start to understand things, come here and ask specific questions. For example, you say you did Autotune for a bit, did you use it all over the map? How specifically did it help or hurt the tune? Autotune is pretty good in TS, but it can make things worse at idle and low load. It's great while cruising and light acceleration (but you need to be smooth on the throttle!). I've used it at WOT before with success, others will say that's dangerous. If your map is already "safe" (ie: a bit rich), then you can just take a datalog and adjust the VE table yourself at WOT to make the AFR happy.
Thread
Thread Starter
Forum
Replies
Last Post