Was overheating, now too cold.

10-26-2013, 04:21 AM
Senior Member
Join Date: May 2007
Location: Atlanta
Posts: 657
Total Cats: 104

Was overheating, now too cold.
---
I've probably brought this on myself. I'm in Georgia, and after going turbo and MS3, I finally sought out this summer to get my A/C working. I got it working, but my water temps were headed towards the 250 mark. Previously ran my cooling fans ganged, and while I was running on the warm side (220ish), once the fans were unganged I wasn't getting enough airflow through the rad at 70mph.
So I went ahead and properly shrouded it. Temps were good throughout the summer, 180-200 with A/C on. But the weather has turned - I took the car off the road for a couple of weeks while I did some work and tonight with a 35f ambient, my water temp maintained 135f at 70mph. Oil was on the low side at 180. When I stopped for 3 minutes, the water temp raised up to 170. I stopped to get gas, and the radiator was warm (but not scalding) - so I believe the 120f is valid.
So - obviously - my shrouding is working pretty well. I've also got a few cooling mods..
m-tuned reroute, 190f tstat, godspeed radiator, radiator shroud and upgraded fans, louvered panel on a low-pressure area of the hood facing the correct way. Should also mention a racing beat type 2 nose, so the mouth is a bit bigger as well. I deleted the hard-pipe water line, blocked off the tstat housing, and proceeded to run a stainless steel hose from the heater core to the lower radiator hose to get a little mixing manifold action going on. So my cooling looks a bit like this -
With this setup, I'm wondering if I'm getting too much flow through the heater core. While driving tonight, I turned the heater on, kept a constant speed, and the water temp didn't really budge - stayed at 135.
So - which strategy should I pursue? Open holes in my radiator shroud? Put a piece of plastic in front of the radiator? Put in a flow limiter - like a toyota heater core valve - on the heater core and start varying flow?
---
Last edited by gooflophaze; 10-26-2013 at

04:57 AM

.

10-26-2013, 08:14 AM
Senior Member
Join Date: Aug 2010
Location: Arl. Texas
Posts: 935
Total Cats: 26

---
What year motor do you have?

What percent coolant are you useing, all, some, a splash?

I have used a piece of ABS plastic and the side of a case of beer as a restrictor plate for the radiator before. I wouldn't go right to cutting or adding holes right away.

10-26-2013, 10:03 AM
Moderator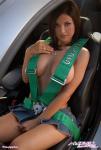 Join Date: Nov 2008
Location: Tampa, Florida
Posts: 18,916
Total Cats: 2,364

---
Pull your thermostat and inspect it. I bet it is stuck open. The rest of your system is essentially functioning as stock so, no, your heater core arrangement is not the problem.

10-26-2013, 01:22 PM
Senior Member
Join Date: May 2007
Location: Atlanta
Posts: 657
Total Cats: 104

---
94 with 99 head, probably a 70/30 ratio,

I'll check the thermostat - but when I pulled it right before this rigamaroll, it was closed.

My concern is that a 5/8ths hose with no restrictions is enough to "bypass" the thermostat.

10-26-2013, 06:18 PM
Senior Member
Join Date: May 2007
Location: Atlanta
Posts: 657
Total Cats: 104

---
either a mazda or felpro MLS, I can't remember which one I went with last time.

I was out and about today, 60 degrees ambient - and the water temp was back up to a respectable 170-ish, oil about 210. I'm going to keep an eye on the temps, see what happens when it dips into the 30's tonight.
Thread
Thread Starter
Forum
Replies
Last Post