Car can't start but cranks. Newbie

01-08-2015, 08:11 PM
Newb
Join Date: Jan 2015
Posts: 3
Total Cats: 0

Car can't start but cranks. Newbie
---
Hello, everyone sorry for making a straight question. I am new to this forum..
I've a problem, yesterday somehow with no reason my car stopped working, I mean it wont start but its cranks. So, ive checked and channged all the spark plugs and it has a spark. Its 99 mx5 1.6. So ive checked fuse under the bonnet. the 15amp one, seems its fine too. ive put some petrol in the throttle body, engine worked but not for long, and started weird. Ive tryed to let my bud to crank the engine while I was trying to hear if anything happens in the fuel tank, nothing. So I thought maybe its a fuel pump? but wait it could be the fuel relay? Or even the Main relay would it be? Any suggestion lads, really need that miata running on the weekend. :(
Thank you in advance.

Edit: Also I am newbie in cars, so where can i locate fuel relay? Its JAP.

01-09-2015, 08:02 AM
Moderator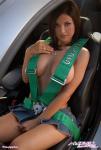 Join Date: Nov 2008
Location: Tampa, Florida
Posts: 17,926
Total Cats: 2,108

---
Either the fuel pump has stopped working because it failed or the electrical circuit to it has stopped providing power. The electrical circuit could stop providing power due to a fuse or relay being bad or perhaps the sensor that tells the ECU that the engine is spinning is not working correctly. Any of these could cause a lack of fuel.

Please post your location in your profile so that it shows up under your screen name when you post. It will prevent confusion in the future because there are differences between the cars in many parts of the world.
Thread
Thread Starter
Forum
Replies
Last Post