Easily Overheating HELP!!!

07-29-2010, 09:32 PM
Senior Member
Join Date: May 2007
Location: Atlanta
Posts: 509
Total Cats: 66

---
Have you ever used a stopleak product, or has the car ever seen a stopleak product?

I did a timing belt/water pump job on my dads car. Started overheating regularly afterward; the stopleak from the previous owner set up while I had the system dry. Replace the radiator, no joy. Ended up being the hardpipe that goes from the waterpump to the heater core had almost completely clogged up. Once the car was up to temperature, it would slowly rise to overheating, sometimes the gauge would bounce as water would splash around on the sensor. Lost coolant very, very slowly. Replace the pipe, all is good. Heater core is still clogged, have to fix that before winter.

07-30-2010, 09:12 AM
Elite Member
Join Date: Jan 2009
Location: Columbus, OH
Posts: 4,141
Total Cats: 198

---
Go tie a rope to a tree, tie a loop in it, wrap it taughtly around your neck, and go for a swing
There's a reason the thermostat is in there. If you have to take the thermostat out to keep your engine cool, you're not fixing the problem; only the symptoms...
the actual problem may get worse over time, and by the time you realize it, you may be looking for a new engine.
you'll also create new problems. Your engine will not heat up properly in winter, your fuel mileage will drop, and you'll have no heater to speak of.
Why don't you help solve the actual problem at hand? The medical equivalent of what you've done is:
"We know you have the flu, so we're going to help you feel better until you die."

07-30-2010, 11:52 AM
Moderator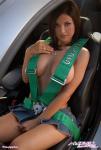 Join Date: Nov 2008
Location: Tampa, Florida
Posts: 17,796
Total Cats: 2,065

07-30-2010, 12:04 PM
meatbag

Join Date: Nov 2008
Location: Houston, TX
Posts: 7,258
Total Cats: 26

07-30-2010, 02:25 PM
Junior Member
Join Date: Jan 2009
Location: Boston
Posts: 67
Total Cats: -1

---
I agree with hx1966. Check the bypass hoses and barbs for crud going in and out of the thermostat housing. That was the problem with my 91. Take the tubes off and try to blow air thru or get fluid to pass thru or shine a light thru. I had a whole bunch of stuff caked in there that was stopping flow. The temp gauge would get to hot REAL quick, then bounce once in a while. Once I cleared the tube, everything was fine.

11-14-2010, 06:14 PM
Newb
Join Date: Nov 2010
Location: Riverside, Ca
Posts: 7
Total Cats: 0

---
Check for Oil in your coolant. That is usually a good sign of whether or not you have a blow head gasket.

Had that problem....just fixed it yesterday. If you have someone to work with and a free day it isn't so bad.
Thread
Thread Starter
Forum
Replies
Last Post
Miata parts for sale/trade