Weirds sound from my NA

05-24-2018, 06:23 AM
Newb
Join Date: Aug 2017
Posts: 20
Total Cats: -12

Weirds sound from my NA
---
Hi guys.
After being in Italy for a week, where my Turbo NA 90' has been standing still I feel like I have some weird new sounds.
I rarely have the roof up - and they are more noticeable with the roof up, so I might not have heard them before now.
I have a very light (not deep) ticking sound from the engine - my ears hear it, like it is coming from around the driverside, air filter area? Its hard to hear, and most noticeable when driving past parked cars, when I have the windows down so the sound is reflecting in through my windows. You can also hear it at idle, but it seems like its following the RPM, when accelerating.. What could this be? Should I be worried??
The second sound is like a weird vibration sound, similar to trying to accelerate while having very low rpm and a high gear.. it sounds like something is vibrating against each other? It happens only in 1. and 2. gear at around 900 - 1600 rpm?
Please help - maybe this videolink helps with the ticking?

05-24-2018, 07:17 AM
Moderator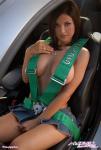 Join Date: Nov 2008
Location: Tampa, Florida
Posts: 18,917
Total Cats: 2,364

---
Use a long screwdriver against the valve cover and put your ear against the handle to listen to the engine.

Many ticking sounds that vary with engine speed are valve lifters and can be eliminated with an oil change to Rotella T6 synthetic. Or sometimes just an oil change. Or a Marvel Mystery Oil engine flush.

05-25-2018, 07:56 AM
Junior Member
Join Date: Jan 2014
Location: Raleigh, NC
Posts: 273
Total Cats: 22

---
I agree that changing the oil, and using a quality oil, will help reduce the noise. With that said, these cars do have a fair bit of HLA noise that is considered normal.
It honestly doesn't sound that bad from the video. It is possible you have become sensitized to the noise after not driving it with the top up for such a long time.

05-27-2018, 08:55 AM
Newb
Join Date: Aug 2017
Posts: 20
Total Cats: -12

---
The oil has been changed a few months ago and has only about 700 km in it.
Oil level is full. And it is a pretty thick oil as well..

Yeah - i agere guardiola. When you hear a weird sound, all of the sudden you hear It all the time.. so that could be it as well..
Sixshooter - I will try to have a listen around. See if I can localize it..
Thread
Thread Starter
Forum
Replies
Last Post