Hydra 2.7 Doing What it Should

12-28-2016, 06:35 PM
Junior Member
Join Date: Jan 2014
Location: Green Cove Springs, Florida
Posts: 153
Total Cats: 12

Hydra 2.7 Doing What it Should
---
Hi all,
I upgraded to an FMII from a Voodoo II back in September. I had been on the fence for a long time about making the move to a stand alone ECU and, if I did, which one. I finally settled on a Hydra since I've been happy with FM's products. I'm sure one of the newer Megasquirts would have been a good choice.....but I had to choose.
After I installed the upgrade kit, the car started right up, idled well and ran well....for the most part. I had issues with an oscillating idle when r
the A/C was on and the car would not go over 10 psi. with the EBC ( electronic boost control ). I felt over whelmed by the software and "afraid" to tweak anything because I had no idea what to do to improve the set up. I turned off the EBC and reinstalled my Turbosmart MBC. COULD ONLY GET 11 psi. If I turned it up more the engine would break up ( misfire) . On top of these issues my area was hit hard by a hurricane and I had to work on property repairs and rarely drove my car, let alone work on it.

I never stopped reading though. IPad on one side and Windows laptop on the other, learning what I could about the software. Once I caught up on repairs, I started to work on the car and use my newfound knowledge with help from Jeremy at FM, Ken Hill, Flyin M2, Codrus and Canyonfive. I found a minor mechanical problem or two, and did some software tweaking. Reinstalled the EBC and got it working well ( Canyonfive). Car hits 12 psi like I wanted, idles well, runs great, and has no detonation under full boost. I have very slightly leaned out the fuel map, data logging along the way looking for detonation.

The car car is running very well. I hope to get it on a dyno at some point to see where it's at. Is it 100%? No, and it may never be. The point of this is that, thanks to this forumI was able to make the jump from a piggyback to a solid standalone solution. That is what this forum is for.

I expect to keep tweaking and learning and, at 68 yrs. old, that is fun and rewarding.

Thanks to the the members who have helped and to Miataturbo.net!

Paul

12-28-2016, 07:16 PM
Moderator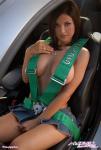 Join Date: Nov 2008
Location: Tampa, Florida
Posts: 19,294
Total Cats: 2,434

---
Good stuff. This is a good community of people who actively help others who are trying to help themselves. And you'd be surprised to know how many members we have that are over 50. I'm not that old but I'm an old fart in training. One day...

01-03-2017, 12:05 PM
Junior Member
Join Date: Sep 2006
Location: Reading PA
Posts: 134
Total Cats: 68
---
Paul, thank you for the recognition and summary of your project. I'm glad to hear its working well. I began working with EBC last summer before engine troubles sidelined me for a few months. The car is back together and I;m looking forward to working a little more with EBC. So far I'm pretty happy with how it works.