SRT4's

04-28-2016, 12:16 AM
Senior Member
Join Date: Oct 2011
Location: SE NM
Posts: 1,495
Total Cats: 48

SRT4's
---
Has anyone had an 03-05 SRT-4 around here? A very clean one popped up on FB for $5500 with 81000 miles on it locally. I have three cars right now, an 06 Miata, an 01 Miata, and a 2010 Jetta TDI. The Jetta will get bought back by VW in a few months, so I was looking at finding a cheap but fun DD to replace it with. I also think I would sell the 01 and the massive amount of parts I have saved up for it to go ahead and pay it off because I would like to get out of debt.

I would like a bit more space in a fun DD and I take very long trips in the Jetta right now (averaging 2k a month) so doing that in the 01 might get annoying. So basically I need to choose between keeping my slow, stock 01 (but paid for) to DD or pick up that SRT4. I could learn to tune and everything with the 01, because I have a MS3 Pro, or just sell everything and get the SRT4.

Sorry for the rambling, but what do you guys think?

04-28-2016, 12:22 AM
VladiTuned

Join Date: Apr 2008
Posts: 35,193
Total Cats: 3,166

---
Haven't owned one, but a friend did and I got to drive it a lot.
His was mopar stage2 something or other. was surprisingly quick for what it was, spun the 1st 3 gears (which gets REAL old real fast if you're trying to drive it quick without looking like a f&f wannabe). It was not comfortable for long drives, though the front seats were pretty decent for a rental car. It kept up with and beat a really impressive amount of cars though. We would troll people with it often.

I'm split on the car lol, it's really amusing, and would kinda be fun to just beat it like a redheaded stepchild. On the other hand, it attracts the worst kind of attention, looks really uggo, and the fail wheel drive spins notoriously unless you're into doing burnouts and such.

I would buy one for the lolz, but I wouldn't sell an 01 miata to do it.

Hope that helps.

04-28-2016, 04:59 AM
Elite Member

Join Date: Sep 2010
Location: Laguna Hills, CA
Posts: 7,187
Total Cats: 605

---
That's a solid price if the car is actually clean and relatively unmolested. What year is the one for sale? You really want an '04-05, they came standard with an LSD those two years.

I haven't owned an SRT-4, but I did own an '04 PT Cruiser GT 5-speed. Same engine and ECU, but about 350 lbs heavier. I did a diablosport Predator tuner, 3" exhaust, and stiffer wastegate actuator so it'd hold boost better up top. Surprised a LOT of cars with that thing, including my brother's 2000 BMW M Roadster.

The little SRT4 is quite a weapon with just basic stuff done to it. Not the most comfy road trip car, but far from the worst too. I mean, it's no German sedan like your jetta, but far nicer to drive long distances than an NB. I like the plan of selling the NB and picking up the SRT. Really fun cars, and the SRT gets halfway decent mileage too (unlike the PT, which largely got terrible mileage).

04-28-2016, 08:26 AM
Moderator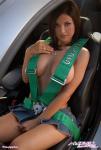 Join Date: Nov 2008
Location: Tampa, Florida
Posts: 19,049
Total Cats: 2,396

---
It's a Dodge Neon with an engine swap. Same crappy interior plastics, same crappy electrical switchgear, same window regulators, same Chrysler econobox build quality, but with a more interesting engine. Just be prepared for that.
Thread
Thread Starter
Forum
Replies
Last Post
Miata parts for sale/trade
Miata parts for sale/trade