Big Hello To Everyone

03-05-2010, 02:06 PM
Junior Member
Join Date: May 2008
Location: Stafford - UK
Posts: 74
Total Cats: 0

Big Hello To Everyone
---
Hi everyone. :-D I've had an MX5 for the past 6 years and have done loads to it over the years. I know its now to everyones taste, but here's a few pictures anyway.
Its a 1997 1.8 fitted with a Powercard Pro and MSD that currently running my supercharger with 150mm crank overlay and intercooler. I have larger injectors, uprated pump O2 clamp and an Innovate LC-1 kit ready to go on along with an emanage blue. I just need to sort out a boomslang harness.
I'm a complete noob when it comes to tuning and would welcome any advice given.

03-05-2010, 02:22 PM
Crumple Zone Tester

Join Date: Jul 2009
Location: Jackson, MS
Posts: 7,748
Total Cats: 469

---
It's funny, you made a lot of decisions on your car that I wouldn't have -- but the end result doesn't offend me at all. I kind of like it, really. That probably sounds a little more like damning with faint praise than I intend it to, but I'm serious...I like your car, and I'm kind of surprised how much I like your car.

Now get a turbo.

03-05-2010, 02:59 PM
Junior Member
Join Date: May 2008
Location: Stafford - UK
Posts: 74
Total Cats: 0

03-05-2010, 03:10 PM
Moderator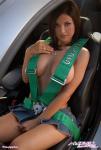 Join Date: Nov 2008
Location: Tampa, Florida
Posts: 19,324
Total Cats: 2,434

---
Welcome. Please add your location to your details so it shows up under your name. We're glad you joined us.

Personally I think it needs wider tires to fill out those wheel wells.

03-05-2010, 04:10 PM
Junior Member
Join Date: May 2008
Location: Stafford - UK
Posts: 74
Total Cats: 0
Thread
Thread Starter
Forum
Replies
Last Post