Hi, From Scotland

12-04-2017, 10:59 AM
Newb
Join Date: Dec 2017
Location: Perth, Scotland
Posts: 3
Total Cats: 0

Hi, From Scotland
---
Hey,
Just though id chuck up a greeting post signed up mostly to browse and soak up info
I have a 1999 NB Mazda roadster imported to Scotland in 2007
Pretty clean but not spotless, ohlins coilovers bbs e30 wheels with nankang ns2r semi slicks and a few other bits
Ive got a start on doing a td04 conversion withe the following bits
Blackcat mainfold and downpipe
td04 turbo from one of my old imprezas
ss custon made v banded exhaust 2.75 "s
ME221 ecu
random intercooler
Plus other shiney do das and thingys
ill pop a couple pictures of it below but look forward to checking out all the tuning and hair styling tips

12-06-2017, 02:10 PM
Moderator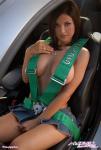 Join Date: Nov 2008
Location: Tampa, Florida
Posts: 17,758
Total Cats: 2,055

---
Welcome to the forum. What are your plans for the car?

The hard top spoiler actually reduces the aerodynamics of the car and diminishes the effectiveness of the trunk spoiler, for what it's worth.

What part of Scotland are you in?

12-07-2017, 04:48 AM
Newb
Join Date: Dec 2017
Location: Perth, Scotland
Posts: 3
Total Cats: 0

---
Yeah the top spoiler was on it before i bought the car, and the rear spoiler has been riveted on and looks terrible im looking for a new bootlid to start over
plans are just a basic td04 build 240 crank hp then the rest in the suspension etc i stay 15mins from knockhill (a pretty famous track in the UK) so its mostly made to go round there

And I'm from Auchterarder near Perth