A little backwards, but Hello

03-10-2016, 11:40 AM
Junior Member
Join Date: Aug 2015
Location: Lakeland Florida 33805
Posts: 76
Total Cats: 2

A little backwards, but Hello
---
I've been reading on this forum for a while now, and made (I think) my first post a few days ago looking for advice on my SR20 turbo. I probably should've introduced myself first.... anyway;


My name is Jim, I live in Lakeland Florida and bought a rough 2002 Miata almost a year ago. I'm 46 years old and have been messing with cars my whole life. I am married and have four kids so my time and money are limited. I work as a Paramedic for my county Fire Department, and have been a Paramedic for 23 years.


I've owned some decent cars and motorcycles in my life. Ive had a1971 Chevy Nova, 1971 Ford Bronco, 1969 VW Bug, 1974 VW bug, 1985 Corvette with ATI Procharger/ intercooled, 1993 GMC Typhoon (turbo/intercooled/AWD) , 1990 Jeep Wrangler and now the Miata. I've had some sport bikes, Ninja 600, 2009 Yamaha R6r, and currently have a 2013 Suzuki GSXR750 and a 2013 Ninja 636 in the garage.


Ive worked on my cars myself my whole life. I have rebuilt engines (Chevy L-6's, V8's and VW air cooled), rebuilt GM automatic transmissions like 200-4r's and T-350's, re-geared my own Jeep and Ford 9" axles. I cut, weld (I have a mig and a tig) and grind all my own stuff. Ive done some painting and some upholstery work. 20+ years ago I installed car stereo's for a living, and prior to that I was a commercial electrician for a few years. I used to tune my Corvette and my Typhoon using Moates.net stuff and TunerPro software. I do own a wideband O2. There's nothing I wont at least try to do myself, and I am not afraid to invest in special tools to do something.


I've already learned a bunch here. Thanks for all the knowledge!
---
Last edited by alsmedic; 03-11-2016 at

10:21 AM

.

03-10-2016, 12:25 PM
Moderator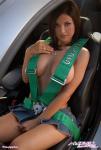 Join Date: Nov 2008
Location: Tampa, Florida
Posts: 17,942
Total Cats: 2,114

---
Welcome to the forum.

Put your location in your profile so it shows up under your screen name when you post.

I'm actually in Plant City and there are a few others active on here in the area.

What are your plans for the car? Several of us do trackdays at Sebring, Daytona, and others. I'm doing Sebring on the 26th, in fact.

I'm over at the Brew Hub in Lakeland from time to time also.

03-10-2016, 12:49 PM
Junior Member
Join Date: Aug 2015
Location: Lakeland Florida 33805
Posts: 76
Total Cats: 2

---
My goals are just to have a fun car that's a little faster. I'd like to try autocross some day, but I don't have the time or schedule to be an autocross regular. I don't really care to fit into any class, if I go it'll just be for fun. I'm also on tampabaymiatas with the same screen name.