New From Burlington, North Carolina

12-06-2018, 03:56 AM
Newb
Join Date: Dec 2018
Location: Burlington, NC
Posts: 4
Total Cats: 0

New From Burlington, North Carolina
---
Hello from Burlington. Coming on 2 years of ownership with my 1991 Miata. I'm a big "Style" enthusiast. Haven't done much but wheels, coilovers, a engine swap, and a couple different paintjobs on it. I know my way around the car though and feel as if i can do just about anything it requires. Over the next year I plan to have it repainted professionally, new wheel setup, angle kit, a semi-built 1.8L engine, and all around maintenance. Then the following year I plan to go turbo with the project and want to start my goal out at 250whp. I want my car to be both form and function. I don't know how this site will feel about it as a lot of people hate on stanced cars of any sort, but #SendIt I guess. Here's a picture of my two-tone purple '91 and my roommates two-tone pink 95'.
Hope to start a little build thread on turning the car into something clean and moderately fast. Thanks for reading.

12-06-2018, 04:17 AM
Newb
Join Date: Apr 2018
Location: Bakersfield, California
Posts: 41
Total Cats: -7

---
Not entirely my style, but I can definitely respect it for the fact that you love it! I'm more about style as well but raised up a bit more haha! Any more detailed info on the car? Engine swap? What are you planning for the 250whp goal? etc.

12-06-2018, 05:51 AM
Newb
Join Date: Dec 2018
Location: Burlington, NC
Posts: 4
Total Cats: 0

---
Currently on the car I have Raceland Primos with a rear helper spring delete and Garage Star 2" extended tophats. Recently put on a new top, about to order some rear overfenders to save it from some developing rust. The engine swap was another 1.6L as my first had an oil pump failure and decided to circulate half a piston through it on the highway. For my new engine I want it to be form & function so I've decided on Flyin' Miata Cam Gears, Garage Star Pulleys, Skunk2 Intake. Seems like there's a million and two things I have planned, I have a list of parts for it that I've put together that I believe will hold 250 reliably but haven't decided on if I should keep OEM pistons or upgrade, or what rings I should run. For Turbo Kit I'm still getting a lot more research together but the Flyin, Miata kit seems pretty good. Gonna go with the Turbosmart Bypass, 550cc injectors, gt2560 turbo, and all the other goodies paired with a Megasquirt PnP2. Of course time and new knowledge might change my decisions. One thing I've decided is that I definitely don't want anything just rigged together. I would much rather prefer just to spend the extra money to have everything done right the first time.

Of course there's a long list of other things like exhaust, fuel pump and the other stuff that turbo requires.
As of right now just trying to get the chassis all prepared for it with framerails, rollbar, building a new engine, and much more that drains away at my wallet!

12-06-2018, 06:47 AM
Moderator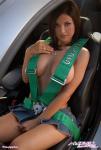 Join Date: Nov 2008
Location: Tampa, Florida
Posts: 19,049
Total Cats: 2,396

---
Needs 94-up rear diff and axles prior to a turbo. 1.6 diffs fail at stock power levels.

I didn't see where you mentioned 1.8 engine anywhere. It is what you want.

And let me gently say that it's going to be hard to be form and function when your suspension has no function.

12-06-2018, 07:44 AM
Newb
Join Date: Dec 2018
Location: Burlington, NC
Posts: 4
Total Cats: 0

---
Yeah It's gonna be a 1.8, and I'll have to do 1.8 diff, along with new bushings and everything, there's a plethora of items I didn't mention. While my suspension as is actually isn't limiting me that much currently I do understand there will be sacrifices. I want it to be form and function as a balance of what I value being appealing on either end. I cant have best of both worlds in that regard. Stance doesn't support having a perfect track car or ideal ride for anything. I have it just low enough where I don't rub my wheels and I'm good with that.

12-06-2018, 10:51 AM
Newb
Join Date: Apr 2018
Location: Bakersfield, California
Posts: 41
Total Cats: -7

---
+1 on the diff. I also own a 91 and the 1.6 differential is garbage. I went through 3 of them before shelling out the money for a good 1.8 from a newer NB. (My first was in the car, I had a wrecked parts car I pulled the second from, and the third I actually spent money on unfortunately)
The 1.6 diffs have pinion gears that like to shear off even with my current 90whp.
If it is working currently, youíre fine but definitely have the money to buy another and about 5 hours free if itís your first time
Thread
Thread Starter
Forum
Replies
Last Post