MS on a "stock" car?

05-15-2019, 05:55 PM
Newb
Join Date: Jun 2012
Location: Raleigh, NC
Posts: 17
Total Cats: 0

MS on a "stock" car?
---
I've had my car a month...looking to do some perf mods but not sure about F/I yet. What's the opinion on getting a MegaSquirt for a stock car and tinkering from there? Any downside?

Dale
-----------
2001 SE build #2502

05-15-2019, 06:12 PM
Moderator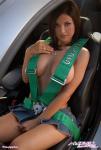 Join Date: Nov 2008
Location: Tampa, Florida
Posts: 18,910
Total Cats: 2,364

---
There's no downside except for the slippery slope into modifying everything else. You can pick up a few horsepower just eliminating the MAF when you go Megasquirt. Being able to tune and see what is happening with the car is so engaging that it becomes fun.

05-15-2019, 08:02 PM
Newb
Join Date: Jun 2012
Location: Raleigh, NC
Posts: 17
Total Cats: 0

---

05-15-2019, 08:44 PM
Junior Member
Join Date: Oct 2018
Location: Tampa FL
Posts: 103
Total Cats: 10

---
OBD2 port won't work with their systems or report at all. Luckily here in Florida there are no inspections whatsoever, although that isn't the case for a lot of us in the US. I would recommend keeping your stock equipment just in case you ever move to a state with OBD2-based testing.

05-15-2019, 10:46 PM
Junior Member
Join Date: Feb 2018
Location: Knoxville, TN
Posts: 76
Total Cats: 11

---
I can vouch for MS on an otherwise stock Miata. Outside of MS and an AFM delete, my powertrain is completely stock. The gains are definitely noticeable. The car just feels more alive.

It's a steep learning curve, but you get out what you put in. It's the preferred first step for FI, too.

05-16-2019, 04:27 AM

---
Mine is totally stock bar a 4-2-1 header that was cheaper than stock to replace. I do however have a **** ton of non engine mods than I've compiled over the years.
I changed from an Emerald K3 to an MS3 Basic about two months ago.

I do not notice any more power over the K3 but it is far more user firendly.
Support is usually good and here we have some very experienced folks too.
Although I have an issue posted that has many views but no replies so sometimes i takes time.

05-16-2019, 05:45 AM
Junior Member
Join Date: May 2015
Location: Portugal
Posts: 75
Total Cats: 16

---
MS is worth it just for the fun in tuning the car. IMO If you tune it all properly with nice EAE the car is noticeably smoother. Also you will gain a bit of power from extra timing and then some more from getting rid of the MAF and some piping.

MSlabs has an add-on module for their MS3 which allows digital wideband input as well as OBD port usage. I would contact them and ask how the OBD thing works (I only have the digital wideband feature), It might make it pass inspection.
Thread
Thread Starter
Forum
Replies
Last Post