Wilwwod Master Cylinder / booster question

06-18-2019, 05:11 PM
Senior Member

Join Date: May 2012
Location: Gulfport, MS
Posts: 512
Total Cats: 40

Wilwwod Master Cylinder / booster question
---
So I purchased a Wildwood MC from V8roadsters a while back and having heard from multiple vendors that it is not compatible with the Mazdaspeed booster I ordered a "used 01 sport booster" from Ebay.. I'm not sure if I received the right one but it looks identical to the one in my MSM already. The MC will bolt up to it but does look like there is enough travel for this thing to work. The total travel of the booster appears to be 1 5/16inches with the pushrod being about 1/2 an inch recessed (pushrod unthreaded in picture) if you deduct the portion of the MC that goes into the booster (3/8 of an inch) there is still 3/4 of an inch of travel required before the pushrod touches the piston on the MC. This only leaves about 9/16 of an inch of actual travel which seems like it's not right. Am I missing something?
After thinking I maybe got the wrong part I went ahead and ordered a remanufactured booster for a 2001 miata with sport suspension and without ABS from Autozone... this won't even bolt up to the MC...
Also I'm making this post from my phone and apologize in advance.
Wildwood MC kit from V8Roadsters
Alleged "01 sport booster" from Ebay (looks identical to the one currently installed in my MSM)
Showing the depth required to make contact
About 1 1/8th inches
Remanufactured "01 brake booster w/ sport suspension and without ABS" Autozone part# 53-4640
Doesn't even bolt up
Vacuum line is centered instead of being offset and makes contact with the reservoir.

06-18-2019, 05:23 PM
Senior Member

Join Date: May 2012
Location: Gulfport, MS
Posts: 512
Total Cats: 40

---
Update: I talked with Shandelle at V8roadsters and he says that the remanufactured booster I received is for an NC so maybe it was mislabeled..

Should I try to order another one or am I overthinking the pedal travel and could the original "Ebay" booster be correct?

06-19-2019, 08:26 AM
Moderator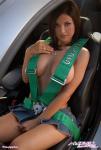 Join Date: Nov 2008
Location: Tampa, Florida
Posts: 19,329
Total Cats: 2,434

---
Go to the local auto parts store's warehouse location and see if you can put eyes on a few different variations. Bring your new MC with you and compare for compatibility.

06-19-2019, 08:57 AM
Senior Member

Join Date: May 2012
Location: Gulfport, MS
Posts: 512
Total Cats: 40

---
Thread
Thread Starter
Forum
Replies
Last Post
Miata parts for sale/trade
Miata parts for sale/trade
Suspension, Brakes, Drivetrain