Eliminating Power Steering and keeping A/C with no Idler Pulley

04-19-2014, 11:05 AM
Moderator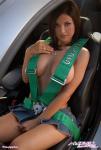 Join Date: Nov 2008
Location: Tampa, Florida
Posts: 19,287
Total Cats: 2,434

Eliminating Power Steering and keeping A/C with no Idler Pulley
---
I'm running the AC compressor right off the crank pulley.
Find the right belt.
Here it is:
4PK0775 or 5040305
Take all four of the bolts off that hold the compressor to the mounting bracket. Tilt the front of the compressor toward the crank pulley to slip the belt on. If you have chosen the correct length putting the compressor back on the mounting bracket will tighten the belt just right.
Reinsert the long mounting bolts just like it was before.
If necessary for additional belt tension, a flat washer can be placed between two or even all four of the contact points where the compressor attaches to its mounting bracket.Use a couple of flat washers between the compressor and its bracket if needed for additional tension.
Here is an older pic showing the AC belt routing. The AC unit is mounted normally.
Not a great pic, but it's just a friggin' belt going form one pulley to another. Use your imagination.
Thread
Thread Starter
Forum
Replies
Last Post
Miata parts for sale/trade
Miata parts for sale/trade
Suspension, Brakes, Drivetrain