Nitrous control thread

08-03-2009, 10:15 AM
Elite Member
Join Date: Jun 2008
Location: Houston, TX
Posts: 1,545
Total Cats: 11

Nitrous control thread
---
So I'm wondering how restrictive nitrous is to the big turbo users on these road courses... With the way the adaptronic can REALLY handle subsystems like nitrous I was thinking about putting together a nitrous kit that activated between 2500-4000RPM to help turbocharger spool up. You wouldn't need a large shot, and you could cut the nitrous as soon as the turbo spooled by using an "and" function with a map cut off of like 140kpa or something. A 15 lb bottle would probably last a month (maybe a lot longer as you could still switch kill it for daily driving)

I was just thinking that with the shift of alot of people going to the 2871 the 3071 or the 3076 that a nitrous shot could make the 3076 spool like a 2560 which is a win win. On top of this you no longer need a sophisticated system. No 100% TPS trips, special tricks to add fuel injection pulse width, independent rpm switches. All you need is a bottle, a couple wires, a solenoid and lines to the engine bay. You wouldn't even need a wet kit, the adaptronic can take care of the enrichment and timing pull(if necessary).

Thoughts?

08-03-2009, 12:35 PM
VladiTuned

Join Date: Apr 2008
Posts: 35,141
Total Cats: 3,145

---
I'm not planning to ever run nitrous, BUT if you did something like that with a water injection kit that would be AWESOME!! I'm sure most of us are either running or planning to run water/meth injection on our cars. I know I am for sure. Already got the kit.

08-03-2009, 06:15 PM
Moderator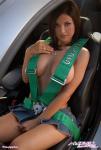 Join Date: Nov 2008
Location: Tampa, Florida
Posts: 18,886
Total Cats: 2,356

---
Nitrous is becoming more and more common as a spool-up helper around here. There are four guys that I have seen with them on the street. And with the small bump of nitrous they are using (50hp), the bottles last forever. They'll make a really big turbo spool right ******* now and then the gas is cut out at a predetermined boost level so you don't keep using it. So you tell it to stop at 10psi and the turbo takes it from there.

Somebody will want it if you offer it. Somebody with a turbo that they love when it is on boost and hate when it isn't yet.

Edit: WI is a really good idea, too. It is on my "to do" list.

08-03-2009, 06:39 PM
Elite Member
Join Date: Dec 2007
Location: San Antonio, Texas
Posts: 4,847
Total Cats: 28

---
Well, early spool improvements aside, the techie-cool factor of having N2O injection to spool the turbo is tempting. But I am not sure I would get it unless it was pretty inexpensive, and still a good kit. If it was say more than $500 (with the bottle) I might have to think about whether or not I want it badly enough for the money. My 2871 spools later than the 2560, but if I just shift 500-1000 rpm later it pretty much offsets the problem in terms of daily driving.
But, then again, just think of all the opportunities it would create to use the
emoticon, but in a positive light.

08-03-2009, 09:22 PM
Moderator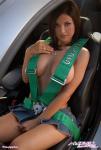 Join Date: Nov 2008
Location: Tampa, Florida
Posts: 18,886
Total Cats: 2,356

---

08-03-2009, 11:39 PM
Elite Member
Join Date: Dec 2007
Location: Nebraska
Posts: 4,713
Total Cats: 139

---

08-04-2009, 11:21 AM
Senior Member
Join Date: Aug 2007
Location: Southern Indiana
Posts: 1,369
Total Cats: -1

---
This may be out of the scope of this thread but, one thing that I have always wondered is whether nitrous could make your turbo surge. I mean, you take a large turbo and a small motor and you are already riding the surge line as it is. You throw nitrous into the equation and you are making the turbo spool up even faster, pushing you closer to a surge condition. Any thoughts anybody?

08-04-2009, 12:04 PM
Elite Member
Join Date: Dec 2007
Location: San Antonio, Texas
Posts: 4,847
Total Cats: 28

---
Originally Posted by
Stein
AACHHH!!!
Guys, quit giving me more modification ideas!!
Seriously though, it would be cool. But, if you are targeting the road racing track crowd, at least in my case, I do not think it is that big a deal. I can just keep the car higher in the rev range and I am OK. Based on my latest logged pull I am only about 400 rpm down on the GT2560 on boost versus rpm.
Now for autox that might be a different story. But it seems like N2O might put you in a weird class? Don't know, have not done autox in years.
It might be a cool toy for the street. Chicks dig nawz, just look at how the Fast and Furious guys pull the chickies wit dat ****.
Thread
Thread Starter
Forum
Replies
Last Post
Suspension, Brakes, Drivetrain
Suspension, Brakes, Drivetrain