Fuel Map and Modifiers - How to turn off?

06-01-2012, 10:06 AM
Senior Member
Join Date: Apr 2007
Location: Ohio
Posts: 782
Total Cats: 3

Fuel Map and Modifiers - How to turn off?
---
I'm trying to get a good fuel map going. Car starts nicely and idles pretty well but bucks under moderate to hard acceleration. O2 sensor shows lean, but the sputtering makes me think it may actually be a rich condition causing misfire and lean reading, because it fattens up and smooths out if I hold throttle or just accelerate very slowly through the rev range. Map is pig rich for the most part, too.

So how do I turn off anything and everything that is mucking with the fuel until I get the map decent? I think the dTPS settings are adding too much fuel. There may be other things as well; I just don't know how they all interact, or more importantly - how to turn them off for now.

Feel free to tell me if my thinking is off on this in any way. I sorely miss VE Analyze at this stage!
---
Last edited by soloracer; 06-01-2012 at

11:37 AM

. Reason: Edited for clarity

06-01-2012, 10:26 AM
Moderator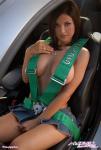 Join Date: Nov 2008
Location: Tampa, Florida
Posts: 19,269
Total Cats: 2,432

---
AFRs can read lean when there is a missfire. This can happen even if pig rich.

Why not manually remove a certain percent of fuel in some cells and see if it can at least not missfire. Then you can work on dialing it in.

06-01-2012, 11:27 AM
Senior Member
Join Date: Apr 2007
Location: Ohio
Posts: 782
Total Cats: 3

---
Thread
Thread Starter
Forum
Replies
Last Post
Miata parts for sale/trade