1995 Mazda Miata - $7600OBO

04-15-2010, 08:36 PM
Junior Member
Join Date: Dec 2007
Location: Chattanooga, TN
Posts: 185
Total Cats: -1

1995 Mazda Miata - $7600OBO
---
Category
: Import
Status
: Clean Title
I have a 1995 Mazda Miata for sale, in USA - Tennessee.
Mileage
: 71xxx miles
Engine Size
: 1.8
Asking price is $7600OBO
Ok all, the time has come for another project. Just picked up a 1964 Chevy C10...
I am the third owner of this car and will have owned it for two years in May of this year. I purchased it completely stock from a husband and wife in Birmingham AL. Body is in great shape, as well as paint. No rust! Top is also in excellent condition.
Here is what all I have done to it in the past two years.
R-package front lip, smoked running lamps, Mini Cooper hood scoop duct in front bumper.
New 15x7 rota slipstreams (were black, painted bronze) with 205/50/15 Kumho Ecsta XS. (less than 2000 miles on them)
New timing belt, water pump, tensioner, idler, cam seals, front main, cas o-ring and valve cover gasket in fall of 08 at 62xxx
Fatcat motorsports coilovers with 550f/325r springs on stock valved bilsteins, this includes his tophats, bumps, etc... Also RB hollow front bar.
Flyin' Miata stainless steel frame rails.
Harddog sport bar. No diagnals.
Megasquirt MSPNP 94-95 and upgraded it to Hi-res 10G Winter 09
Koyo 37mm rad in prep for turbo.
DDMWorks stainless 3 gauge surround
Isspro water temp and oil pressure gauges(am also including summits new led gauges to replace these because I do not like the backlighting on the isspro's and will not use the summit ones on my new project.)
Innovate LC-1 wideband with blue DB gauge wired correctly, with spare o2 sensor.
Deatschwerks 600cc injectors. (68xxx, Fall 09)
MazdaComp motor mounts (Fall 09)
Flyin' Miata stage 2 clutch and new rear main seal. (Fall 09)
Redline fluids in diff and tranny, only Mobil1 and wix filters in the car since I've owned it with changes every two to three thousand miles. Less miles inbetween since turbocharged.
Full Flyin' Miata FMII turbo kit with gt2560 and upgraded 3" stainless downpipe. (Fall 09)
Custom 3" exhaust (magnaflow round muffler) built and installed with turbo kit. Poly exhaust hangers.
Dyno4mance in Calhoun GA fully tuned my car just after installation of the turbo kit. They were recomended by Jerry at DIY and had a DynoDynamics dyno at the time. Car made 222 whp at 14 psi with a very very conservative timing map. (This number would compare to roughly 240ish on other dyno's)
(October 09)
This car has litterally been my child since I have owned it. I haven't put more than three to four thousand miles on it since I turbocharged it due to the winter and work. There is not a more loved miata out there, I have never raced or abused this car. I haven't even had it at the local drag strip Lol.
I love this little car and will hate to see it go, but my attention has changed to my new truck.
There are some things that I was going to include with the sale, but can keep to lower the price. Here is a list.
Slipstreams and tires can be traded for stockers with some 80% toyo T1R's
I can keep my rx7 clutch type LSD that I have pulled apart, spec'd, and cleaned
I can also keep my 949racing endlinks that I have yet to install.
If you don't want these items, then knock the price down $600...
Which puts you at
$7000 OBO!
And I do mean Or Best Offer when I say that. I am willing to negotiate some.
Yes, the new Momo wheel and alpine head unit are included.
Call me.
Will
423-667-3162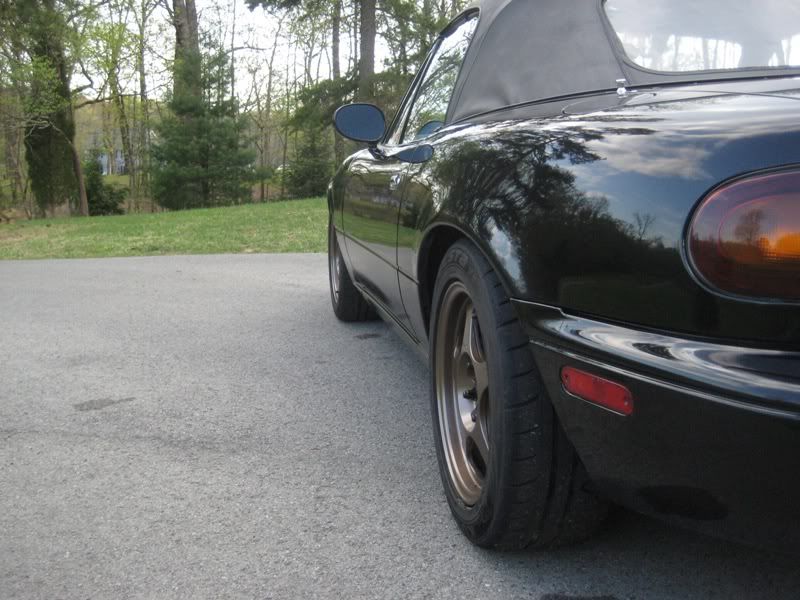 ---
Last edited by flipt86; 04-15-2010 at

08:38 PM

. Reason: phone number

04-15-2010, 10:55 PM
Junior Member
Join Date: Aug 2009
Location: Lakewood (Green Mountain) CO.
Posts: 240
Total Cats: -51

---
Dude where were you TWO FREAKING weeks ago? I just bought a '96 on Ebay on April 2, would've much rather bought your car, oh well here is a bump.

04-16-2010, 01:15 AM
Junior Member
Join Date: Mar 2010
Location: Montreal, Canada
Posts: 80
Total Cats: 0

---
Aww man, if I weren't struggling so much financially I'd buy the car in a heartbeat. GLWS, probably won't take long, this is a fantastic deal.

04-18-2010, 12:22 PM
Newb
Join Date: Mar 2010
Posts: 4
Total Cats: 0

---
How much of the airbag system is intact?

04-18-2010, 01:41 PM
Junior Member
Join Date: Dec 2007
Location: Chattanooga, TN
Posts: 185
Total Cats: -1

---
Everything but the clockspring is still 100% functional. They are twenty dollars on here or on ebay. I've even got the stock wheel sitting right here beside me.

04-19-2010, 12:52 AM
Junior Member
Join Date: Mar 2008
Location: Columbus, Ohio
Posts: 78
Total Cats: -4

---
Very nice and a great deal! If I weren't closing on a new house in a couple weeks I'd be headed to TN. Would be nice stablemate for my black 94 Ubercharged car. C'est la vie - in life timing is everything...
Thread
Thread Starter
Forum
Replies
Last Post