OK, this is copied from the vortex:
For trade, I would be interested in some of the following as partial payment: hard top, 94/95 bottom end, 99 head, 6 speed trans, 2001+ Sport brakes (10.6/10.8 with calipers, brackets, prop valve, good rotors if you have them), 90-93 front bumper, 90-93 full black carpet, 5/6 pt harness, full face race helmet...M for most, other fun parts (will edit when I think of more things)
From VwVortex directly:
I picked this up a few months ago but I need to pay off some bills to finish up stuff on my miata. Price is decently firm but I'm open to offers, lowballers will be ignored and/or poked fun at.
Don't be afraid to ask questions or PM me for a number or just email me at
[email protected]
I'm up at school in Boone, NC so I could meet you up there or outside of Charlotte, NC.
Car:
1992 Volkswagen GTI
Color:
Tornado Red
Miles:
111k
Title:
Clean
Mods:
Techtonics Tuning Mild Steel Exhaust, GR2 Shocks, H4 Ecode conversion, Modded Airbox and K&N Drop in, weighted shift rod
(This thing sounds great, quiet but deep)
Also available: TT Chip, Neuspeed front strut bar.
New Parts:
-New clutch and axles (less than 300 miles with receipt from previous owner)
-New Brakes waiting to go on
-New Fuel Pump(s) and filters, also w/ receipt from previous owner.
-New Timing Belt and Tensioner
-Metal Impeller Water Pump
-Upper and Lower Radiator hoses and Crack Pipe
-All accessory belts, spark plugs, oil change.
-New front bumper clip, turn signals, tail lights, door striker posts, rear hatch shocks, rear tow hook cover, antenna etc.
-Brand New Battery
-Brand New Tires
-Brand New H4 Headlights
-Lower mileage 9a transmission with highway fifth gear
-Repainted rad support, plastic pieces near ECU, etc etc. Overspray pretty much taken care of.
Good:
-Low miles!
-Recaros are in great shape minus the inevitable cigarette burn on the drivers seat.
-Very little rust (2 small spots, check pictures)
-Runs like a scalded dog
-Water pump and all parts associated with the timing belt have less than 500 miles on them. Car cold starts fine. etc.
-Brand New Tires: Falken 912s (195/60R14)
-Brand new factory motor mounts and new G60 solid rubber trans mounts.
-Shifter rebuilt with new ball in cup and missing linkz poly front rod bearing.
Bad:
-Minor dings over the car, mostly in the hood. Missing the small piece of rear trim, the pass rear
-A small rust spot in the rocker, and some minor over spray from a paint job in the engine bay.
-locks stick from outside, work from the inside not sure why yet.
-Radio not hooked up, headliner has seen better days, and two of the pass. door panels need to be re-glued.
Price is $3300
The car has almost all of the main maintenance done that you would need for the next 60k miles, TB/WP, Clutch, Fuel Pumps and Filters. It just needs a bit of cosmetic love. I'm not completely firm, but I wont come off much, I'm either going to sell it and pay off bills, or keep it and figure something out.
More pictures will be up shortly: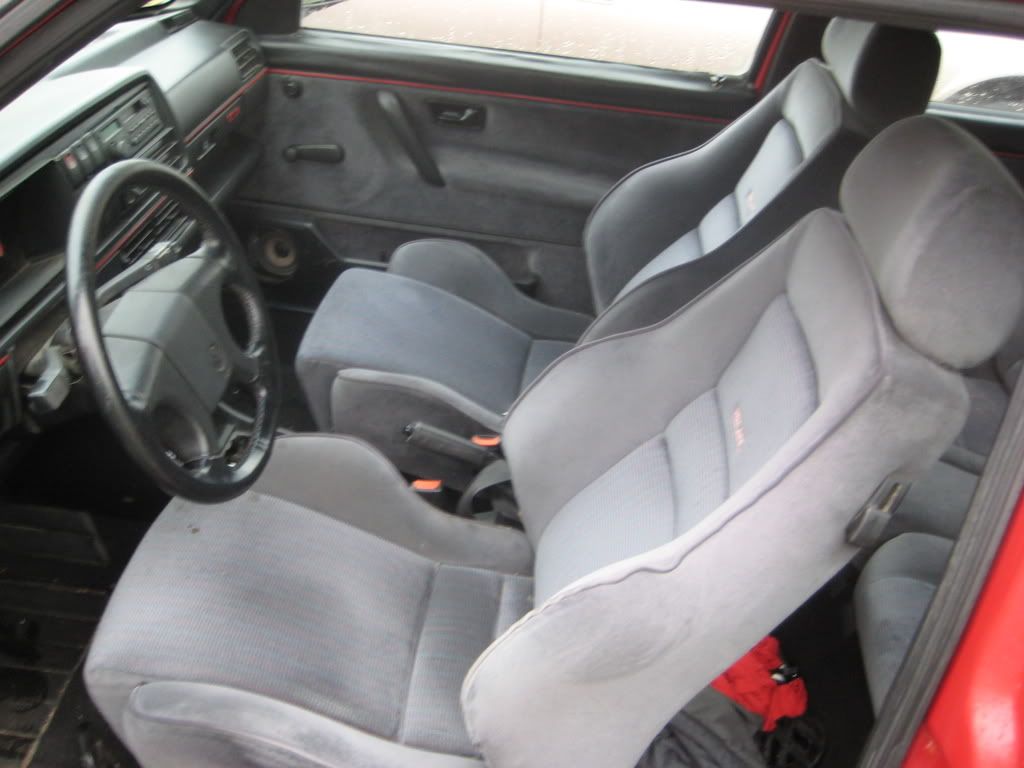 BAD: