FS: My turbo'd 97 Montego

06-08-2006, 11:21 AM

FS: My turbo'd 97 Montego
---
1997 Miata w/ 62,576 miles, less than 2,000 of which are boosted
FM1 kit
TurboXS MBC
RC 550 injectors
FM Single NA exhaust (2.25")
FM Highflow cat
Magnecor 8.5mm plug wires
fresh NGK extended reach heat range 7 plugs
FM Brake upgrade
FM springs
KYB AGXs
FM sway bars
Stock wheels wrapped in Azenis RT215s with a good few thousand miles of tread left
It pains me to do it, but I'm in a financial hole right now and it's about time I bite the bullet and do this.
Car is currently not running at the moment due to lack of an ECU. I had a Link on it before, but due to me making some wiring mistakes (leaving exposed wire in the open), the ECU fried itself after being in for a few weeks. That wiring mistake has now been taken care of.
Now, all the required sensors for the link are still installed and in working order, so the only thing you would need to get my baby back on her feet and at 12 psi would be just the ECU board itself, nothing else. I've got the keypad and SerialLink as well.
Car has had some things removed in interest of weight savings, although it does still have a stereo. Head unit is some single-(MP3)CD player by Pioneer...I think. It's been so long since I've looked :(.
Removed: A/C, interior and trunk carpeting and insulation, spare tire and jack, and numerous small pieces from various parts of the car such as the transport hooks in the front bumper. I still have most if not all of this stuff stowed away, and it will go along with the car unless the buyer just doesn't want it.
I weighed the car with all this stuff removed and before the turbo install when it was still N/A, and it weighed in at 2150 lbs, 1/4-1/2 tank of gas and no driver.
Car dyno'd at 205 whp @ 12 psi, and I'm sure a bump in exhaust pipe diameter would see a significant increase, as would switching the smaller FM1 intercooler + piping setup out for something less complicated.
I do still have the stock ECU in case someone wants to run it with an e-manage or something.
Mechanically the car is in wonderful shape and was doing fantastic before the ECU ordeal. New alternator was put in a few months ago. 60,000 mile service stuff (timing belt, waterpump, etc.) was done right on time. Oil changes were always done regularly with Mobil 1, and I know the little old lady who owned it before me had it serviced regularly as well.
As far as cosmetic shape, paint is in decent condition, but like most 10 year old cars it's got its share of little dings and chips. Nothing at all big, though. Clearcoat is disappearing from the panel surrounding the rear license plate. Interior is in fairly nice shape, seats are great with the small exception of a small hole ( < 1cm) in the driver's seat.
Soft top and rear window are getting a bit aged and worn, still work well, but could use replacing at some point in the future.
This is all I can give you at the moment from work, I'll get pictures up when I'm home. If I've forgotten anything important, let me know and I'll post it up.
I'm looking for a Porsche 914 in a trade if someone somehow happens to have one

. Otherwise, make me an offer I can't refuse. I bought the car for 6,000 with a bit less than 50k miles on it, and I've put thousands upon thousands into it. Of course I do understand that I'll be taking a loss, but I'd like to get more than I payed for it when it was stock.
Thanks for looking everyone. Please help me find a good home for the car I've fallen in love with over the past two years. She's sucked up so much of my time and money, I can only hope she'll be able to do the same for you

.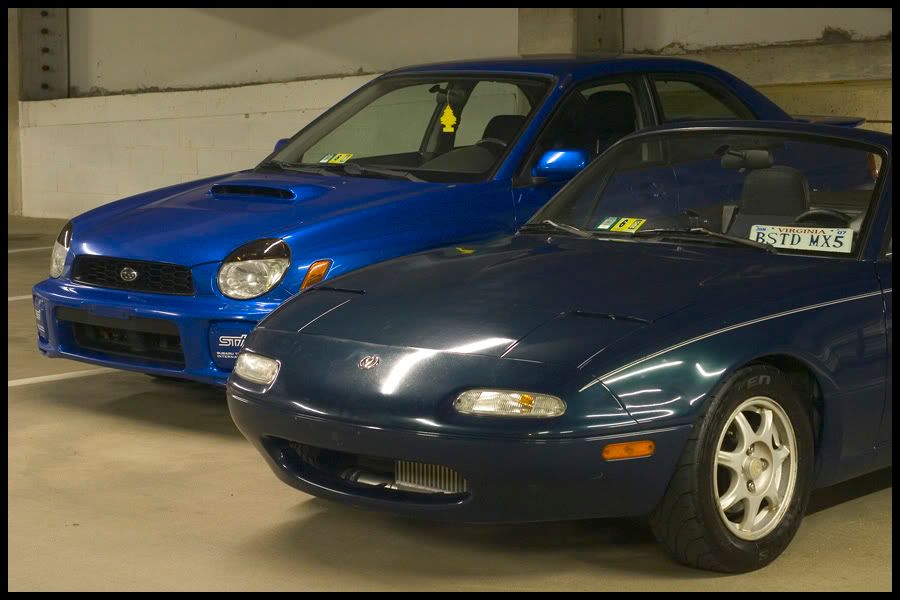 ---
Last edited by IAmCman; 06-08-2006 at

01:06 PM

.

06-25-2006, 04:37 PM
Junior Member
Join Date: May 2006
Location: nj and ga
Posts: 113
Total Cats: 0

---
damnit...

i have 5,000$ cash burning a hole in my pocket...
a little short :-/

06-29-2006, 05:48 AM
Junior Member
Join Date: May 2006
Location: nj and ga
Posts: 113
Total Cats: 0

---
looks like the most i can scrounge is 5,500.

damn bills.
Thread
Thread Starter
Forum
Replies
Last Post