E.U. considering law making it illegal to blow yourself

09-04-2014, 07:35 AM
Moderator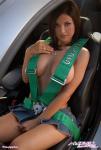 Join Date: Nov 2008
Location: Tampa, Florida
Posts: 19,287
Total Cats: 2,434

E.U. considering law making it illegal to blow yourself
---

09-04-2014, 09:13 AM

---
The correct way to reduce energy use is to raise the cost of energy. Put a noticable tax on electricity and people will voluntarily reduce their energy use. Use the proceeds of that tax to invest in eco friendly infrastructure (or to provide grants/financial incentives for installing clean renewable energy sources as well as the supporting infrastructure) and you have a complete solution. Let the people who want to use 10,000 watt hair dryers use them, while also requiring them to pay for the rooftop solar systems and associated distribution and storage of those who want to reduce their footprint.

The tax should not be progressive/regressive. It should be a flat tax, regardless of how much/little electricity you use. Sort of like our fuel tax. Poor people create smog too.

Why can't I have a 100 watt incandescent light bulb over my workbench? Why can't I take a drenching shower? Why do I have to flush my toilet mid-dump to ensure that it doesn't clog?

09-04-2014, 01:16 PM
Moderator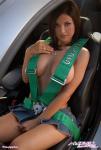 Join Date: Nov 2008
Location: Tampa, Florida
Posts: 19,287
Total Cats: 2,434

---
Stefi uses a 1500W hair drier for 5 minutes to dry her hair.

Sabine uses a 750W hair driver for 10 minutes to dry her hair.

Which fraulein consumed the most power drying her hair?
.

09-04-2014, 02:02 PM

09-04-2014, 02:09 PM
Elite Member

Join Date: Jun 2012
Location: NH
Posts: 9,374
Total Cats: 87

---
This is just like the dumb water saving shower nozzle that make it take 3 times as long to clean yourself while only cutting the water flow rate in half.

And of course to top it off its just creating more and more bureaucracy and making the government more expensive to run. Even without this law Germany is having no problem increasing its solar capacity by leaps and bounds.

09-05-2014, 08:09 AM
Junior Member
Join Date: Sep 2013
Location: Pittsburgh PA
Posts: 268
Total Cats: 7

---


the both consumed the same energy


you would be surprised how many people in the electric utility industry do not understand this...

This is not quite fair though, if everyone had 1500 watt dryers, it ends up being less efficient from a system standpoint because of the demand.

If 10 people turn on their 1500W hair dryers at the same time, the grid has to have 15,000 W of idling capacity available. The transmission and distribution circuits all must be able to support this extra 15,000W of power.

If everyone is mandated at 750W, you have halved the demand of the load, even thought the total energy consumption is the same. This allows you to use thinner gauge wire, smaller transformers and have more generators on cold shutdown instead of spinning reserve.
---
Last edited by Davezorz; 09-05-2014 at

08:25 AM

.

09-05-2014, 08:44 AM

---
But if everyone uses 1500w hairdryers for 5 minutes, and their morning schedules are such that each begins using their hairdryers one minute apart (7:00, 7:01, 7:02, etc.) Then the most hairdryers you have running at any given time is 4. 4x1500 = 6k watts.

If everyone is using 750w hairdryers for 10 minutes and they begin drying their hair exactly the same as before (one minute apart), then the most hairdryers you'll ever have running at one time is 9.

9x750=6750 watts.

In addition to the fact that the 6750 watts of line requirement is more than 6000 watts of line requirements, you now have 10 angry bitches that are all 5 minutes late for work.
Thread
Thread Starter
Forum
Replies
Last Post
Suspension, Brakes, Drivetrain