An Old Veteran Remembers . . . .

12-14-2016, 07:40 PM
Elite Member
Join Date: Mar 2008
Location: Granbury, TX
Posts: 6,188
Total Cats: 656

An Old Veteran Remembers . . . .
---
I'm in Italy. It's late at night. I've been drinking Grappa. You'll just need to bear with me as I unload a bit.
I was perusing my USNA class page and came across a post regarding ADM Andy Lewis.
That's right, I'm old enough that any classmate that is not retired is either a General or an Admiral. But I remember Andy as just another young midshipman at USNA that went to flight school with me. I started in 22nd company in the Class of '85 at USNA and ended up in VFA-83 on Saratoga. Andy was in 25th company in the Class of '85 at USNA and ended up in VA-72 on Kennedy. Both these ships conducted combat operations in the Red Sea during the Persian Gulf War. I remember a lot of things from that time. I knew that what we were doing was a part of history, for better or worse. I knew that I was a small cog in a much larger picture. I remember the nerves and dread before launch, the focus during the long flights, the amazement at some of the things I saw (the entire night sky of Baghdad lit up like the 4th of July, the oil well fires, the Basra road), the relief of surviving another mission, the crushing disappointment and empty feeling when good friends didn't. The thing that sticks with me the most is the empty feeling. Veterans Day and, especially, Memorial Day are really hard. I miss my friends and I feel guilty.
Vietnam was not too distant at that time. The Saratoga CO had been a Hanoi Hilton guest. 2 of the senior pilots in my squadron had flown in 'Nam. We were going against the latest Soviet SAMs and we expected to get plastered. The concentration of SAMs around Baghdad in early 1991 was 6X that of Hanoi in 1972 and Iraq also had MIG-25s and MIG-29s. But in the end, while we had some losses, things worked really, really well. At the time I thought "too well" . . . so "easy" that it might lead future non-veteran politicians to make poor decisions. Remember that George H.W. Bush was a Naval Aviator and was our last President to experience combat.
So, enough of that crud! I like remembering the good times, and when I saw that Andy had been in VA-72, it reminded me that a VA-72 A-7 Corsair landed on Saratoga accidentally during combat operations. The Red Sea is pretty small, and there were 4 aircraft carriers operating there at the time. I guess it was an easy mistake to make. Here's the proof!
It made everyone's day to hear "Corsair, Ball" coming aboard Super Sara in 1991 -- Sara's light attack squadrons had transitioned to F/A-18s years earlier.
And here's 27 year old me . . . LT Ricardo Price, complete with Saddam mustache!
USS Saratoga (CV 60) Operation Desert Storm Cruise Book 1990-91 - VFA-83
Feeling old. Time to crash.
---
Last edited by hornetball; 12-14-2016 at

07:52 PM

.

12-15-2016, 01:28 AM
Newb
Join Date: Dec 2010
Posts: 28
Total Cats: 3

---
Pretty badass. Thanks for your service and the story.

Its funny being a little too young for the Persian gulf I feel like a lot of people would be surprised to hear that at one point Iraq had an Air Force, and anti air armaments that actually make pilots nervous. Seems like anyone my age just sees our pilots go in with impunity. Barring mechanical issues or a lucky hit you don't hear much about US airmen actually getting shot down in recent history.

12-15-2016, 08:35 AM
Moderator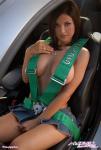 Join Date: Nov 2008
Location: Tampa, Florida
Posts: 19,287
Total Cats: 2,434

---
Thank you for your sacrifices. The Navy is a tough life full of self-sacrifice.

My father was in Saudi then. I was in college. He saw combat in Vietnam. He was actually in Berlin during the Berlin Crisis when the Soviets blockaded with their armored divisions during Kennedy's administration. He was the old guy during Desert Shield/Storm. He was very good at what he did. He went on to work another 12 years at Centcom afterwards as a GS something.

You caught me on a nostalgic morning with this. I am sorry I didn't see it earlier.

God bless those who have sacrificed themselves for their friends, family, and their country. We owe them for every day they didn't get to enjoy for themselves. We are forever grateful.

12-15-2016, 01:26 PM
Elite Member

Join Date: Apr 2006
Location: Kauai, HI
Posts: 6,288
Total Cats: 228

---
The Gulf War was early high-school for me, but I flew off Lincoln during the opening months of Iraqi Freedom. I COD'd on 10Mar... war started following week. I was the newest LT Junior Grade in the airwing and had two proficiency flights before my first combat mission... basically fresh out of flight school 2 weeks before and here I was making hostile designations and passing "cleared to fire" commands. I actually have a single-action NCM with "V" for some cool **** I did on the about the 10th day.

Prior to the opening day of the war, the crew knew something was going down, but leadership actually did a damned good job of keeping details of the start of operations secret'ish. We'd been in a comms-blackout for a couple days when one of my bunkies woke us up in the middle of the night and said to get dressed and come topside.

We all walked out on the flight deck in complete pitch blackness and for an hour watched our cruiser fire tomahawks from about a mile away. I still get a boner thinking about it.

12-15-2016, 01:39 PM
Junior Member
Join Date: May 2005
Location: Tampa, FL
Posts: 150
Total Cats: -6

---
That's a great story. I'd bet that aviator got a rash of **** from his squadron mates once he got back to the Kennedy.
My father was a USAF F-4 Phantom (last flight of the USAF QF-4 was just this month) combat pilot during Viet Nam. By the time Desert came along, a back injury kept him on the ground handling flight ops for the 37th. AEG out of Riyadh. All I ever wanted to do was follow in his footsteps and become a USAF pilot myself, but I met a teriffic woman during the summer before college and I didn't think she would like being a military wife, so I diverted from that path. Now, my son will take the mantle and become a Naval Aviator after graduation and commissioning in May 2017. He got his wish and he will get fixed wing aviation, but this past summer he did get a chance to take the controls of a SH-60, flying over Virginia Beach, VA.
FLY NAVY!