Damaged block, is turbo possible?

07-12-2018, 09:07 PM
Newb
Join Date: Jul 2018
Posts: 2
Total Cats: 0

Damaged block, is turbo possible?
---
Hello all, first post and I am excited to ask everyone their advice.

I've had my 2001 SE Miata for a little over 2 years now and have largely just driven it. It has a FM Stage 1.5 suspension and an upgraded intake/K&N air filter. Also improved brakes. All were add on's from the previous owner and I have been enjoying the car's performance as a daily driver. A little while ago I noticed a grinding sound that seemed to be coming from the water pump area and I had assumed that the pulley was simply going bad and would need to be replaced. The vehicle has ~130k miles on it so I wasn't very surprised either.
I opened everything up to do a water pump/timing belt change and much to my surprise, the part of the water pump that caps onto the fins to create a"water wheel effect" had broken free and the grinding noise was the pump piece freely banging around on the outside of the cylinder block. The cap was free for about 1 week of daily driving and was slowly grinding down the engine block. The actual cylinder block had about 1-1.5mm of metal sheered off of the wall in two points both about a square cm in area. I had pictures but have lost the phone they were on otherwise I would post them. Please let me know if you don't understand my explanation of what I mean and I can try to clarify.
So the engine didn't seem to be leaking or anything and still felt quite solid, so we flushed the hell out of the coolant system, rinsed out the radiator like 20 times with water and saw tons of metal shavings come out but there didn't appear to be any leaks so after cleaning we bolted everything back up with new water pump, belts, gaskets, etc and I have been driving without issue for about 5k miles. But now I'm thinking about turboing.

I don't want to do anything crazy, maybe the FM stage 1 or something similar but not looking to get more than 200+-20hp to the wheels as this is just really to make the vehicle more fun of a daily driver. I might potentially autox it in the future though. I am worried however of adding forced induction to an engine that has a block with thinner points on one of the cylinder walls. I don't know much about forced induction in general, but my question is, will adding 8-12psi of boost into an engine like mine have a potential to cause problems? Are the blocks on 1.8 miatas usually an area for failure when going the turbo route? Would you not turbo if it was your car in this situation? Would you just turbo and see if the block cracks, then swap an engine if needed?

Thanks for your answers and let me know if I can clarify anything!

07-12-2018, 09:26 PM
Senior Member
Join Date: Mar 2014
Location: Jacksonville, FL
Posts: 1,195
Total Cats: 145

---
Well, metal in water passages is no biggie, it's not connected to oil passages. And you flushed it good.

so the damage is to the actual cylinder wall from the outside if the wall?

my guess is if the cylinder didn't crack yet, it won't crack with the 12 psi you'll put into it.

miata blocks have survived 500+hp without blowing up, so they're plenty strong if not damaged previously like in your case.

or do what I did. Buy a used $100 block. Throw new rings/bearings and Ebay rods. And swap blocks when doing the turbo install. You'll be good for about 300hp reliably.

07-14-2018, 08:37 AM
Moderator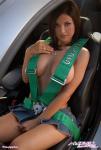 Join Date: Nov 2008
Location: Tampa, Florida
Posts: 18,902
Total Cats: 2,363

---
Turbo what you have and build a second block with forged rods and pistons on the side. One day you can swap and turn it up.

If it is running now it will likely continue without issues at ~200whp.
Thread
Thread Starter
Forum
Replies
Last Post
Miata parts for sale/trade