Maf sensor help 01-05

05-29-2019, 06:54 PM
Newb
Join Date: May 2019
Posts: 4
Total Cats: 0

Maf sensor help 01-05
---
I have a question about the maf sensor. I have a gt35 turbo and need some help with figuring out what to do about the maf. The turbo has a 4" inlet and the maf is 2.5" . I was thinking about getting a 4inch maf housing off ebay and was wondering what sensor I could use. I don't wanna choke down the turbo with the small stock maf sensor. Thanks

05-29-2019, 07:43 PM
Junior Member
Join Date: Mar 2012
Posts: 92
Total Cats: 24

---
I think you need to go back to the start.

have you chosen or bought an ECU yet?
do you intend to tune yourself? or pay a shop to do it?


There are basically a couple of ways an ECU can get the info it needs to actually make the car run.

Factory ones use a MAF/AFM, they measure the amount of air coming through the intake etc and determine the fuel needed accordingly.

non factory ECUs tend to use speed density, and measure air pressure and temp, to determine how much air there is, and then work out the right fuel etc.



Non-factory ecus are very flexible and can be tuned to use an AFM/MAF instead of speed density, but most people dont bother since it adds more complexity for only a tiny benefit (which I cant even remember what that benefit is)



Short answer:
Talk to your intended tuner and see what they want you do to.

05-29-2019, 07:49 PM
Newb
Join Date: May 2019
Posts: 4
Total Cats: 0

---
I did buy an aftermarket ecu (ME 221) there are no tuners local to me I have to drive at least 5 hours to the closest one so I was gonna play around with tuning it my self not trying to put down any impressive hp numbers only wanna run like 5 psi till I can get it to a shop to actually tune it. Thank you for your help

05-29-2019, 08:09 PM
Junior Member
Join Date: Mar 2012
Posts: 92
Total Cats: 24

---
If you're wanting to tune yourself, it's a steep learning curve.
Especially with an ECU that's doesn't seem to be that well supported with info etc.


You'll want to learn about the general stuff about tuning, what knock is, why it's bad, what AFRs are etc, etc etc.
Then you'll need to learn how to apply that to your ECU choice.


Basically, you'll want to spend HEAPS of time reading and testing the tuning software and learning your way around it long before you even go near the car.



Or pay for the tow to the tuner and have it done by someone who presumably knows what they're doing.
Another tip: choose a tuner based on their work and reputation, not their location.

05-30-2019, 06:00 AM
Moderator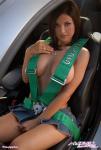 Join Date: Nov 2008
Location: Tampa, Florida
Posts: 19,304
Total Cats: 2,434

---
Megasquirt ECUs have support and a huge knowledge base in this community. ME221 is a poorly executed pirate copy of the design of an older Megasquirt and most people here won't be much help with them beyond generalities.

05-30-2019, 10:51 AM
Senior Member
Join Date: Mar 2014
Location: Jacksonville, FL
Posts: 1,279
Total Cats: 155

---
Me221 and megasquirt does not need a maf sensor, they run the car by referencing the vacuum/boost off the intake manifold.
You need a vacuum line ran from the manifold to the ecu.

Didnt you get basic instructions with your me221 on how to get started?

Why did you get me221 and not ms3?
Thread
Thread Starter
Forum
Replies
Last Post
Miata parts for sale/trade