Stainless Steel Turbo Coolant Lines

07-09-2008, 07:24 PM
Elite Member
Join Date: Jan 2007
Location: Newnan, GA
Posts: 2,518
Total Cats: 30

Stainless Steel Turbo Coolant Lines
---
First off, this is a reference write-up, I am in no way responsible for you messing something up.
Also, this is somewhat of a costly project unless you have someone or somewhere that you can get the parts for cheaper. I had some of these parts laying around, and had to order the rest, so I will list base costs for reference.
I had considered ordering BEGi's distribution block (a nice piece for sure), but at $209 + shipping, I felt I could do better, and since my oil feed is already SS braided, it would have been overkill.
Also, another disclaimer, the parts I'm going to list are for reference's sake. If you can find them cheaper elsewhere, go for it! Won't hurt my feelings, the only parts I actually ordered were the SS hose and the tube fittings, everything else was laying around.
For parts you will need:
ATP Turbo:
(2) Banjo Fitting Kits For Coolant Lines
14mm Machined Alum to 1/4 NPT
According to ATP: "Banjo fitting kit for coolant connections on GT25R/GT28R/GT30R/GT35R Turbochargers."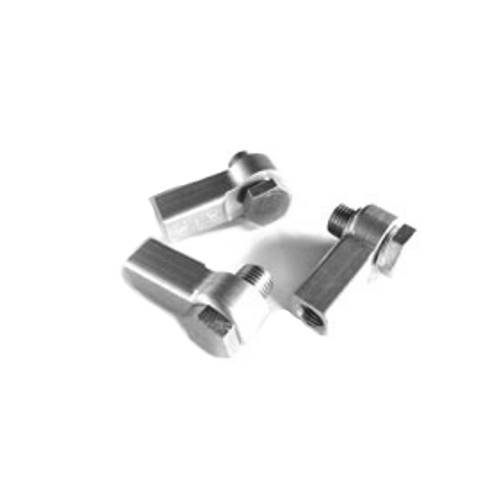 Part Code: ATP-FTG-003
$22.00 each
Total = $44.00 + Shipping
Jeg's
(who I prefer to use):
-6AN Pro-Flo 200 Series Braided Hose
6' length
(Only because I needed more hose for another project. You can get the 3' length for $14.99. My current fiber hoses measure 18" and 16" and have slack, and that's only 34". So that should be sufficient for you and leave a little room for error if you've never cut SS line before. lol)
Part #: 555-100911
$24.99
(2) -6AN Male to 5/16" Tube Fitting
Part #: 361-165056
$11.99 each
Total = $23.98
(4) -6AN Straight Max Flow Hose Ends
Part #: 555-100001
$4.99 each
Total = $19.96
(2) Anodized -6AN to 1/4" NPT Adapter
Part #: 799-660440
$6.99 each
Total = $13.98
That's a total of $126.91 (or $116.91 if you order the 3' length hose) + whatever shipping is to you.
Assembly is pretty simple, and if you've ever put lines together before, I'm sure you already see what to do.
But starting at the turbo: The banjo fittings go into the turbo. The 1/4 NPT adapters connect to the banjos. The 6AN hose ends connect to the adapters. Then the hose. Then the other 2 6AN hose ends, which connect to the tube fitting. And the tube fitting connects to the hard tubes at the thermostat and waterpump. You will have to cut the flared ends off to make them work of course. And that's about it.
I'm still waiting for my line and fittings to arrive, and I'm also waiting on my downpipe from BEGi to get here. When it all arrives, I'll be doing the line work while the turbo can be removed. Once I do the work, I will post up with results and pictures.
Thread
Thread Starter
Forum
Replies
Last Post
Miata parts for sale/trade