Track Turbo Build

08-15-2014, 05:34 PM
Newb
Join Date: Aug 2014
Posts: 27
Total Cats: -50

Track Turbo Build
---
I already know what everyone will say, just another turbo build thread that he should have looked through everything and got his answers. I'm looking into doing a track specific turbo build and want it to last under whatever I throw at it on the track. I'm not sure if I really want to go all the way through a full engine build but if I have to so be it. It's looking more and more like I'll be using lost of parts from FM because everything I read has the best quality in terms of design and reliability. What LSD do you guys use with gear ratios and what not? I will put a budget on the build but at the same time I want to do it right the first time to keep me out of trouble in the future.

Let me know what you guys think.

Thanks.

08-15-2014, 06:20 PM
Senior Member
Join Date: Nov 2010
Posts: 506
Total Cats: 56

---
To give you a heads up.... I already am 4700 in parts alone for a motor rebuilt not being built. Ball park 4k in a FM turbo kit II with MS3x. I have yet paid a builder for my motor which will cost me another 4 or 5k.

So if your on a budget, do what the guy above me says.

08-16-2014, 01:51 PM
Moderator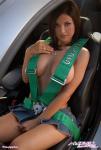 Join Date: Nov 2008
Location: Tampa, Florida
Posts: 19,287
Total Cats: 2,434

---
Before you add a turbo you need to do reliability mods like coolant reroute and bigger radiator. You should also upgrade the brakes and suspension. And the clutch pre-dates the turbo as well.

The 1.6 rear diffs fail at stock 1.6 power so switching to a 1.8 diff and axles is a must. 4.10 and 3.9 ratios are most common and either will do fine.
Thread
Thread Starter
Forum
Replies
Last Post
Miata parts for sale/trade
Miata parts for sale/trade
Miata parts for sale/trade