Are all K type thermocouples created equal?

01-01-2019, 07:48 PM
Junior Member
Join Date: Jul 2016
Posts: 91
Total Cats: 11

Are all K type thermocouples created equal?
---
Hi folks, I'm in the middle of organising per EGT monitoring into the MS3, via Quad MAX31856 amplifier. I'd love to hear from those who already are doing 4xEGT logging.
Questions:
1. K type thermocouples range from $14 (fleabay/Amazon), to $76 (Diyautotune), to over $100. But they are all visually quite similar, and the specs (when you can find any) are line ball. Do I give the Chinese thermocouples a try? Is there anyone out there who has had success/failure with using them?
2. Also closed vs open tip - do you really need an open tip for dyno tuning, are the closed tips that slow?
3. I'm assuming closed tips are safer for long-term installations because there is less chance of bits snapping off and going into the turbine blades?
If anyone who is doing EGTs could comment on their thermocouple choice, that would be peachy

01-01-2019, 09:05 PM

---
I've bought a couple cheap ones -- the insulation on the wires melted and they shorted out and stopped reading properly. The one I bought from DIY has far outlasted them and is still going.

--Ian

01-02-2019, 06:19 AM
Moderator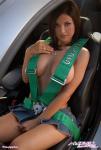 Join Date: Nov 2008
Location: Tampa, Florida
Posts: 18,875
Total Cats: 2,355

---
---
Last edited by sixshooter; 01-02-2019 at

01:41 PM

.

01-02-2019, 01:00 PM
Junior Member
Join Date: Apr 2018
Posts: 100
Total Cats: 21

---
All that "K-type" refers to is the bi-metal junction at the tip of the TC (and thus this metallurgy alters the Seebeck coefficient which changes the scaling/calibration curve you need to apply to turn thermoelectric voltage into temperature). This is constant regardless of mfg, but quality, durability, and packaging is what will be different.

I imagine you want something close tip, this is pretty standard for immersion in any fluid with corrosive properties (e.g. exhaust gas). Most the lab-y people I know buy all of theirs from Omega but it's pricey and you'd have to dig through the catalog to find the right application. I think the DIYAutotune probes are definitely the correct solution, but if you're on a budget I'd bet you can find a supplier selling something identical or 99% the same in around the $30/probe range. Just have to decide if your time is worth hunting them down -- it's not like DIYAutotune is bad company to support.

E: or your could read sixshooters post, thank him for the spoon feeding, and buy one of those.

01-03-2019, 01:38 PM
Supporting Vendor


Join Date: Jun 2006
Location: Athens, Greece
Posts: 5,584
Total Cats: 240

---
I bought mine from Motorsport Innovations about 8 years ago, and they are still working great. I remember they were in the $60-80 each. You do get what you pay for with these.
__________________
MS Labs: Plug and Play Megasquirt ECUs for
ANY
90-05 Miata (NA, NB1, NB2 w/VVT, MSM), including basemaps to get you started ASAP.
PM me
or email or details.
For support on MS Labs ECUs: Please email, be sure to include the unit's serial number and include a datalog and your current map.
Thread
Thread Starter
Forum
Replies
Last Post