Can I use 79mm wiseco second rings on 78.5mm Supertech pistons?

05-31-2019, 09:35 PM
Newb
Join Date: May 2012
Posts: 9
Total Cats: 1

Can I use 79mm wiseco second rings on 78.5mm Supertech pistons?
---
Hello,
TLDR; Can I use 79mm wiseco second rings on 78.5mm Supertech pistons because the 78.5mm second rings have 0.023" gap instead of 0.017"?
Some info:
Exocet with 1.6L stock engine, Ebay Turbo,
FM DIY turbo manifold,
MSPNP, up to 15PSI of boost, was running it for a few years with no issues, until it started overfilling the catch can way too fast under boost.
Figured that rings are gone, decided to rebuild the engine, engineering challenge mostly. Bought
78.5mm Supertech pistons with Wiseco 78.5mm rings
from fab9tuning, bored and honed the block according to the pistons recommendations at a reputable machine shop. Started gapping the rings and the top rings seem to be fine, had to file it a bit to make the gap to be 0.016", The seconds rings' gap is way to big, 0.023" instead of 0.017" as per
Wiseco chart
.
Called fab9tuning and they suggested that the block was bored out of specs (which is questionable, but ok) and I need to go with 79mm second rings to compensate for it. Called Wiseco and they said that I must never do that as the rings won't seal, however, they said that 0.023" gap is fine for 15PSI+ and sent me the following chart down bellow.
I called the Toll Free: 1-800-321-1364 from
Top Rated USA Customer Service - Wiseco Piston Inc.
page, but the chart I got from this person who apparently works for
www.racewinningbrands.com
which is confusing:
Thomas Hanna
Tehnical Sales Department
Office: (440) 497-3170
Fax: (440) 951-6606
RWB - Home
So the question, what do I do, listen to fab9 or wiseco?
Any help would be appreciated. Thanks!

06-01-2019, 02:14 PM
Moderator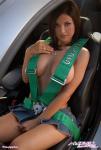 Join Date: Nov 2008
Location: Tampa, Florida
Posts: 19,045
Total Cats: 2,396

---
Buy the set of rings you need from another vendor.

Don't set yourself up for a full teardown and rebuild immediately upon cranking the engine and realizing it's fucked up. Build it right and only do it once.

FAB9 has a history of selling open box return items to many people on the forum, including me, and not disclosing and flat denying it. Beware.

And it was a very telling that he:
1) Didn't make it right
2) Told you to do something anyone with engine building experience would know won't work

06-03-2019, 01:00 PM
Elite Member
Join Date: Apr 2014
Location: SF Bay Area, CA
Posts: 2,490
Total Cats: 272

---
From the piston manufacturer specifications, not some random total seal chart.
I bet your gaps are correct for extreme boost, pretty sure mine were set at 017 top and 022 2nd. I kinda think CP and Wiseco are similar material, but I might be mistaken. Look up a Wiseco chart for your specific pistons.

Edit:
Oops I mean a supertech chart. And the are not a similar material.
---
Last edited by sonofthehill; 06-03-2019 at

01:03 PM

. Reason: Mistake
Thread
Thread Starter
Forum
Replies
Last Post
Miata parts for sale/trade
Miata parts for sale/trade
Miata parts for sale/trade