From auto-x to almost sleeping on streets of LA

06-11-2018, 04:04 PM
Senior Member
Join Date: Jul 2016
Location: San Diego
Posts: 558
Total Cats: 53

From auto-x to almost sleeping on streets of LA
---
So I got my friend a gift certificate for Speed Ventures and then headed to Auto-Club speedway this weekend for auto-x. We thought about doing track, but i don't feel that my car ready for roval. Arrived to ACS, got our registration and went to run the course. He was driving an ND and me in NB (in sig below). Both have some basic suspension mods and I have CAI that is not at all cold at 90* ambient air, 1 minute course runs with 3-5 min grid line. It felt really good spanking mustangs, Evos, M2, M3's and others. Both of us ended up in top 5-10% of all drivers regardless of cars with the friend edging me out slightly.

My plan for the day was to do Auto-x and then drive up to north outskits of LA to pickup a soft top (1.4h from ACS) since i don't have any top at all (keep in mind, I'm from San diego, which is 2 hours away). So we split with my friend at the track and I head up north. As soon as I get on the free-way, I see my hood lifting up slightly and realize it must not be fully closed. I pull over on the concrete part of the shoulder, thinking that I really don't want to go into the dirt as I'm more likely to drive over something sharp. Stop, close hood, get in and start driving. Slap, slap, slap! Ok, something is stuck to the wheel, so I stop get out look at all wheels - nothing unusual. Run my hand over them, don't feel anything stuck. Maybe was a rock stuck to a sticky tire? Get in start driving.... SLAP, SLAP, SLAP!....CLANK and i see something black flying into distance, but now the car drives the way it should - smooth and nice. Phew...

After an hour and change of driving I notice a slight pull to the left under braking and then very quickly after front starts to vibrate....F***. Slow down, take an exit, find somewhat deflated tire. I'm thinking - no big deal, i come prepared, got tire plugs, I have a spare, compressor, i'm fine. Take the wheel off, try to find the hole - can't find it. Inflate it, pour water over it... no hole. Ok, so I'm inflating it a bit more than normal hoping this will get me remaining 15 miles since it doesn't appear to be leaking air in any significant way. As soon as I get on the freeway, the front of the car just shakes like crazy. I slow down to 30mph on the freeway, emergency lights on, take exit and pull into a gas station. Jack up the car, rotate the tire by hand and see that it's about 1" taller in one spot and out of round....Great. At least now I've found the hole too. So take the wheel off - the tire is gone... bulge on a side. Ok, spare it is - take all the auto-x and tools stuff out of the trunk, get spare try to put it on... doesn't fit over the brake. Alright so my friend on the phone points out that it's probably only meant to go on the back since fronts do have much larger brakes. That makes sense, i take rear put it up front, try to mount spare on the back - won't clear the brake. Well, now even though I thought i was prepared to deal with a flat tire... i'm kind of stuck.3 hours away from my place, from anyone I know who could help, 7pm on Saturday night with most shops already closed in a car full of stuff, no top and not able to move. I'm getting this feeling that I'm about to sleep in a car with no top on some random street of LA. Maybe even until Monday. A car pulls up to gas station and a young guys walks up to me asking about what's going on. He is driving for Uber at night and works at a tire shop during the day, offers help. But considering the shop is closed he offers to drive me home before I tell him that I'm actually from San Diego and can't leave the car with no top and full of stuff here.

At this point my brain is fried.... i just can't think normally because I'm tired. So friend suggest i ask the guy selling the top if he has any wheels for sale. I call the guy and tell him that 1 - i can't make it to him, 2 - ask him if he has a spare or regular miata wheel for sale. He tells me that he has been working at his work (auto-repair shop) for me for longer than expected and really needs to go home to his family who are asking when he will be back, so not only can't he help me, but he can't for me to sell the top any longer either. So I really plead with the guy to help me out as I'm stuck, no one else within 3 hour radius I know, but even they don't have the right wheel. So he agrees to see if he can come over. 30 minutes later he pulls up into the gas station with his friend, looks at my miata sitting on 3 wheels and a jack and tells me - "I thought you were bullshitting me, just trying to get me to bring parts to you. But then decided, well, who knows... maybe the guy is telling me the truth". So he brought me a spare wheel from his totaled miata - it doesn't fit! However, he also grabbed a standard 15" stock wheel and tire from 2000, which mounts perfectly on the back. He even brought a power driver to get the nuts off and on quickly. We move the top from his car to mine, I pay him for the top and then extra for the wheel and his time.

Well, the guy works at an auto-shop and is an immigrant from Salvador, has a family and is trying to make ends meet. We chit chat and come to conclusion that immigrants do seem offer help more often and quicker. Just like the uber driver who offered his help earlier and also was an immigrant. That reminded me that I have offered help to someone who was stuck in a bad spot on freeway exit ramp, but after I figured it would start and die, was left with the only option to push it off the lanes into the shoulder and have her wait for a tow truck. I missed a start of our company's management meeting, but at least I tried to help a stranger.

Then I get home and check why my spare didn't fit, while looking through the owner's manual figure out it's from a base model not intended to work with Sport brakes. Which maybe save me from a very expensive mistake as the owners manual WARNS - Do not drive with a spare on the back any significant distance as it may damage the LSD due to very significant size/traction difference. Good to know....

So what is this post about? Nothing really. Being prepared for unexpected and being prepared correctly are two different things. Even someone with OCD like me can still not close the hood properly and result in an expensive and frustrating night. And... if you see someone broken down and you could potentially help - do offer the assistance. I believe that what goes around, comes around.


On a related note - if you have a used 245/40-15 Rival-S and are in Southern Cali - I wouldn't mind buying it as new ones are somewhat expensive and I've just spend my lunch money on top and a used, stock 15" wheel/tire.
---
Last edited by 2slow; 06-11-2018 at

05:14 PM

.

06-11-2018, 05:31 PM

---
I work for a semi-largish trucking company and you'd be surprised how many guys get in a vehicle, knowing they're about to travel across country, and bring nearly nothing with them. Any time you are going to drive farther than you can walk in a day you need to have a few basics... if you are going to drive away several hours from home you need to bring more than the basics. Modern cars/technology has spoiled people too much. Everyone is accustomed to driving 100+ mi with out a second thought but you really should give it some thought.

"Well stuff happens, and if it's gonna happen it's gonna happen out there... I'm not talking boy scout prepared, I'm talking damn well prepared" -Captain Ron (or something like that)

You were well prepared because you were heading out for a track day. Most people would have went, empty car no tools, and been totally screwed with out someone else's help.... I'm starting to ramble now. Stay safe everyone and be prepared on longer trips, a little forethought goes a long way.

06-12-2018, 08:55 AM
Moderator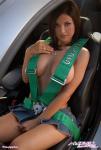 Join Date: Nov 2008
Location: Tampa, Florida
Posts: 18,901
Total Cats: 2,360

---
For me, being prepared means bringing your tow vehicle full of spares and tools if doing a track day. I know it means other things to other people. I'm often surprised by how many people pull a trailer without a spare for it.
Thread
Thread Starter
Forum
Replies
Last Post
Miata parts for sale/trade
Miata parts for sale/trade