Orlando, Fl car help

11-12-2018, 08:48 AM
Newb
Join Date: Oct 2018
Posts: 9
Total Cats: -11

Orlando, Fl car help
---
Hello!

Anybody in the Orlando, Fl area that might want some car help? Iím military with a good chunk of downtime. Really just wanting to learn some stuff and help out. For free of course. Just wanting to get some hands on experience since Iím new to the car world!

11-12-2018, 09:13 AM
Moderator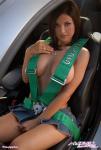 Join Date: Nov 2008
Location: Tampa, Florida
Posts: 18,901
Total Cats: 2,360

---
Welcome to the forum. You should post an introductory thread in the Meet and Greet section with some pics of your car and tell a little about yourself. Post your goals and intended use for your car.

I applaud your desire to get hands on to become more familiar with the car. Reading the successes and failures in the build threads can be a great place to get familiar as well. Sometimes you get to see how things come apart without even getting your hands dirty.

We have a few members in the Orlando area and a bunch in the greater Tampa Bay area.
Thread
Thread Starter
Forum
Replies
Last Post
Miata parts for sale/trade
Local Meets, Events and Tech Days
Miata parts for sale/trade
Miata parts for sale/trade