School me on roll bars

04-15-2011, 02:32 PM
Elite Member

Join Date: Jun 2008
Location: Colorado Springs
Posts: 1,643
Total Cats: 51

---
I've got a Hard Dog M1 Sport with double diagonals and a harness bar, and my head is below the bar when I'm seated (I'm 5'10"). It's legal for open track days, not sure about SCCA/NASA stuff. I figured the more bracing it's got the stronger it's going to be even if it's overkill, and I was thinking of side impact accidents as well as rolling. The harness bar has got to add some extra protection wrt to that kind of accident. I don't mind the view through the double diagonals, and if they are left unpadded there's a decent amount of room to see through them. I've got a snap-on convex mirror cover for my windshield mirror, and I can see even better with that adjusted properly than with the stock flat mirror.

The bar definitely adds rigidity to the car, and I'll echo the sentiment that the hardtop also does a lot for that, too. I wouldn't ditch that just yet.

04-15-2011, 04:03 PM
Elite Member
Join Date: Nov 2006
Location: Tigard, Oregon
Posts: 3,880
Total Cats: 0

---
Originally Posted by
Doppelgänger
I thought that the Maxx versions sat taller and further back and is why they won't fit under a hard top. If it sat further forward, it would fit with a hardtop (at least in my expierence with putting a HT over my Double Maxx). According to BF, the non-HT bars allow more seat recline, which to me, sounds like it sits further back.

As far a HardDog bars go, I love the look at the single diagonal...it's badassness on the eyes. I'd laos imagine, like the BF bars, that non-HT bars sit taller and further back.
The hard top bars actually sit further back so you have easier access the the hard top latches. The soft top bars are taller but forward as you don't need access to latches. I know this is true of the Hard Dog stuff. Not 100% sure on Boss Frog. Here's schematic drawings from Hard dog showing positions of the hard top vs. non hard top. The reason for more seat recline is the bars sit a little wider and the extra height.
I too really like the look of the single diagonal. Interferes with sight lines more but I agree it looks tough. It's what I have and I love it. Didn't take long to get used to the view out the rear view mirror.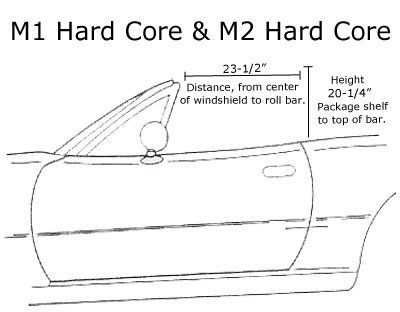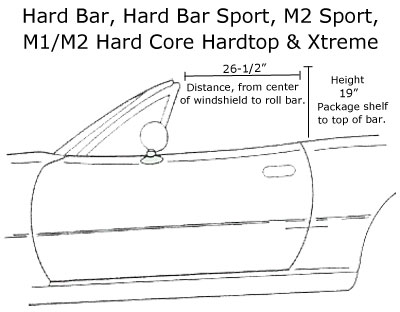 04-19-2011, 07:11 AM
Newb
Join Date: Apr 2008
Posts: 4
Total Cats: 0

---
I've had a couple of Miata's and have always been impressed with the Bethania-Garage / Hard Dog bars.
If you are just doing auto-x, then just pick which ever bar you like best. However, Auto-x is the 'recreational drug' of motorsports. Once you start hearing all your buddies talking about a track day, you'll want to be like all the cool kids and try one. I don't know anyone that has done 'just one' track day
In that case, I'd look at either the Hard Core or Hard Core Hardtop, but check with Tom @ Bethania-Garage to make sure that it will fit your top.
Also, your hardtop help tremindously with the 'cowl shake'. It doesn't offer a lot of rigidity, but does gives the impression that it makes the car a lot more rigid because of less cowl shake.

04-19-2011, 12:30 PM
Junior Member
Join Date: Sep 2010
Location: Kent, WA
Posts: 97
Total Cats: 0

---
One thought about autocross -- the fastest cars do not run with rollbars as it's extra weight. I'll be keeping mine in though.

There are some (pricey) replacement latches that work with a non HT bar and a hardtop. I'm going to fiddle with mine a bit and see what ideas I can come up with w/o spending a bunch of money on side latches. Otherwise the hardtop fits fine over my HCDD bar.

I have a set of dual-density SFI padding ready to go in for a bit of a softer feel than the regular SFI padding. I use the neoprene "Wrapz" to cover the padding.

04-19-2011, 12:34 PM
Junior Member
Join Date: Apr 2011
Location: Huntington Beach, CA
Posts: 66
Total Cats: 1

---
At six feet tall, should I be concerned about my head contacting the bar in street use?

I'm looking to put a hard top on it, so I would need a hard top bar. Seems like the further distance back would aid in avoiding hitting it - but less seat recline? That concerns me a little that you're just trading one problem for the other?

Is the further distance going to actually offer me any more protection from smacking my head?

I've been in rear-end collisions a few times because of idiots who follow too closely and don't pay attention. This is always a concern of mine.

04-19-2011, 01:26 PM
Junior Member
Join Date: Sep 2010
Location: Kent, WA
Posts: 97
Total Cats: 0

---
NA or NB Miata? At 6', with the shorter seats in an NA, yes, I can easily contact my (padded) rollbar. I believe the taller NB seats are better in this regard, and if the salvage car I'm getting this weekend didn't have tan leather seats, I would be trying them.

When I looked it up some years ago, I found that SFI 45.1 padding is tested with an UN-helmeted headform. It feels a bit hard, but that's so it doesn't crush (think helmet interior). As I commented above, there is "dual density" padding available which has a hard inner padding and softer outer padding.

Another point about being 6' (and long waisted) is that without carefull seat selection, it is unlikely you will be suffciently below the rollbar for safety with a full harness. With my helmet and stock seats I'm definitely above the rollbar. Sometime this year I'll try shaving the seat foam and see how much that helps.

No, you don't NEED a hardtop bar to fit a hardtop. My HT fits just fine except for the side latches. Beatrush latches would solve that problem. A HT rollbar will be further back, so less chance of hitting it, but I believe it will also be a smidgen lower with respect to the "broomstick" test of running a straight edge from windshield to rollbar.

04-19-2011, 01:45 PM
Junior Member
Join Date: Apr 2011
Location: Mount Airy, MD
Posts: 88
Total Cats: 0

---
Edit: I don't see many of these:
http://www.bethania-garage.com/xtreme.htm
any reason? I really like the more individualized look for each seat, so if I go with Hard Dog that narrows it down to the xtreme and the deuce.
Thoughts on the two?
---
Last edited by gjenks; 04-19-2011 at

10:18 PM

.

07-09-2011, 12:40 PM
Elite Member
Join Date: Jun 2007
Location: Rochester, NY
Posts: 6,042
Total Cats: 781

---
Just thought I'd bring some closeure to this old thread. I did some looking, and while I was sorta partial to the single hoop style, I found a decent deal on a Boss Frog double hoop with padding. Fairly close by, and I know the owner, so when he gets the chance to pull it out we'll do the swap.

Thanks to those who contributed, and I hope the info helps someone else as well.
Thread
Thread Starter
Forum
Replies
Last Post