Thread sealant when it has to work

02-08-2010, 10:37 AM
Elite Member
Join Date: Feb 2009
Posts: 2,959
Total Cats: 11

Thread sealant when it has to work
---
I made my block off plate and tapped it for 1/4 npt. I used the tape type thread sealant. I'm worried that I should used something else. IF it leaks, then it will be a pain to get to. Should I used some type of loctite sealant instead of the thread tape?

02-08-2010, 11:41 AM
Elite Member
Join Date: Feb 2008
Location: Victoria, BC
Posts: 2,318
Total Cats: 12

---
I think Home Depot carries it. It's sort of the standard in the natural gas industry. It's always supposed to stay moist, and after a year on my turbo water fittings, it was still wet.

02-09-2010, 01:20 PM
Boost Pope

Join Date: Sep 2005
Location: Chicago. (The non-murder part.)
Posts: 28,091
Total Cats: 2,503

02-09-2010, 09:42 PM
Supporting Vendor


Join Date: Jul 2006
Location: atlanta-ish
Posts: 12,651
Total Cats: 111

---

02-10-2010, 07:38 AM
Senior Member
Join Date: Dec 2004
Location: Brisbane, Australia
Posts: 1,276
Total Cats: 34

02-10-2010, 11:08 AM
Junior Member
Join Date: Jan 2008
Location: Manassas, VA
Posts: 229
Total Cats: 3

---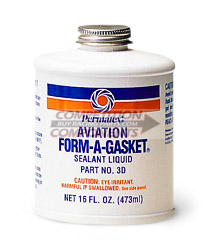 Very strong but messy. Also has to be done correctly the first time as this stuff is near impossble to break free. i used this to seal the fittings on my oil cooler, and patch a gas leak before.

02-10-2010, 01:31 PM
Junior Member
Join Date: Oct 2007
Location: Lisle, IL
Posts: 294
Total Cats: 0

---
Thread
Thread Starter
Forum
Replies
Last Post
Miata parts for sale/trade
Suspension, Brakes, Drivetrain