What do I do?

01-16-2009, 06:54 PM
Junior Member
Join Date: Dec 2007
Posts: 197
Total Cats: 1

What do I do?
---
Ok I am a point with my car that I want to do so many things but not sure what choices to make or what are the best choices are. I have done a lot to the car so far. This what I have done so far:
-new top
-15" black rota slips
-revalved Bilstein shocks (revalved for SCCA showroom stock)
-jackson racing hallow front sway bar (I have the rear but not installed. Still using factory rear bar)
-Flyin' Miata turbo kit with voodoo box
-AEM wideband
-5-speed tran.
-Roadster sport mid pipe and muffler
-Poly motor and diff mounts
-Stainless brake and clutch lines
-Carbotech AX6 pads
-super blue brake and clutch fluid
-Harddog Hardcore Rollbar
-can't think of anything else right now....
Future:
-Paint: I am going to get the car and the gray hard top painted the factory 10AE blue because of a lil fender bender With a SUV that didn't see me and for the key marks that the car had when I bought it.
-Wheels: I want to get new wheels for the street and use the rota's with some sticky tires for the track days and auto-x's. I have always liked the look of the sportmax 002's in a 16. I would get them in gold because I think it would look good with the blue. What do you guys think? Any other suggestion for around the same price?
-Suspension: I want to really lower my car and corner balance it for the track days and auto-x's. So I want coilovers. I have been looking and there are so many choices there. But I have narrowed it down to a top 3 in no order: Tien Flex, Groundcontrol/koni or revalved Bilstein, or Stance GR Plus. What do you guys think about those?
-Cooling: I know miata's when you track them and you have a turbo with an intercooler they get a little hot. So an upgraded aluminum radiator looks to be a no brainer but with is the best for the price?
-ECU/management system: The voodoo box is good for now because I want to get use to the extra HP first. But I would one day like to upgrade the ECU/management system and injectors. But choices out there are either way out of my price range or I feel almost the same as the voodoo box. Plus I don't think I know enough in that area either.
Thank you for looking and giving me any help.
Rudy

01-16-2009, 07:20 PM
Moderator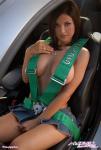 Join Date: Nov 2008
Location: Tampa, Florida
Posts: 17,940
Total Cats: 2,111

---
I'd save the money on the paint job and get an ecu and injectors. I'd rather be fast than look fast. Study and read on this forum about them and your needs will become obvious as your understanding increases.

I'd also do a search on this site regarding radiators and maybe read 3 years worth of knowledge stored in the suspension section and then ask a question that has already been answered.

BTW, I like that color on your car.

01-16-2009, 07:35 PM
Senior Member
Join Date: Apr 2008
Location: Tallahassee, FL
Posts: 1,365
Total Cats: 0

---