Holy shit barn find

03-18-2010, 01:22 AM
Elite Member
Join Date: Aug 2007
Location: Bellingham, Wa
Posts: 2,712
Total Cats: 3

---
The great grampa to the honda s2000 is in a barn next to my friend's house. Jay leno has one, go watch the vid on jay leno's garage. I think its called a honda s600 or something.

those 190Es are gorgeous cars. My buddy had one at his shop the other day and I wanted to cream my pants in the driverseat but when I opened the door it was an auto :(

03-18-2010, 01:50 AM

---
21 posts and no mention of the ultimate (but fake - hey, still nice to dream about finding it) barn find?
Barnfinds Portugal
Partial list:
Dozens of American sedans, from a 1932 Ford 2-door sedan to 1970s Olds Cutlasses
Dozens of 1950s and 1960s Mercedes sedans; A couple of Formula race cars.
Abarth 1300 Scorpione
Alfa GTV
Alfa 1900 SS
Alfa Bertone
Alfa Giuiletta
Alfa Giulietta Sprint
Alfa Giulia Sprint Speciale
Alfa Sud 1.5
Austin A30
Austin A40 Somerset
Austin Healey Sprite
Austin Mini Cooper
Austin Mini Cooper S
BMW 2002
BMW 1800
BMW 501 V8 Sedan
BMW Isetta
Bristol 404 Saloon
Chrysler CD
CitroŽn Traction Avant
Datsun 240Z
DKW 1000SP
Fiat Cabriolet
Fiat Topolino
Fiat 500
Fiat 508 Balilla
Ford Cortina
Ford Taunus
Hillman Californian
Lancia Aurelia B20 2+2
Lancia Aurelia B24
Lancia Appia
Lancia Flaminia Zagato
Lancia Flaminia Coupe
Lotus Elan DHC
Lotus Elan FHC
Lotus Elan +2
Lotus Europa
Lotus Super 7 Series IV
MG Midget
MG Magnette
Matra Djet
Maxwell
Mini Moke
Nash Metropolitan
Opel GT
Opel Rekord
Porsche 356B
Porsche 356C
Peugeot 202
Peugeot 404 Cabriolet
Peugeot 505 Cabriolet
Renault Dauphine
Rover P5 Saloon
Rover P6
Saab 93
Simca Coupe de Ville
Singer Gazelle
Steyr Puch
Triumph TR4
Volvo PV444
VW Beetle

03-18-2010, 02:36 AM
Elite Member
Join Date: Jun 2007
Location: Overland Park, Kansas
Posts: 5,362
Total Cats: 43

---
How about the 1957 Airbox Corvette some dude found in a barn? Saw a thing about this on SPEED several months back.
Finds this vette he was "pretty sure" was an airbox vette and managed to acquire it somehow. Turns out it was Production number 1 AND was bought for SCCA racing winning several championships!
Sunday, December 16, 2007
Three years ago, Bill Connell and Joel Lauman made a remarkable discovery inside a hog farmer's barn in rural Trenton that they likened to "finding a Picasso in your attic."
What they found rusting inside that old barn was an extremely rare piece of American automobile history — a 1957 Chevrolet "Airbox" Corvette.
Fewer than 50 of these racing-model cars were produced by Chevrolet and fewer than half of them are known to exist today. But even more surprising, the "Airbox" car Connell and Lauman found was the prototype, or "pilot car," used to produce all of the subsequent Corvettes in that 1957 line.
That meant the car had unique parts that wouldn't be found on any of the other "Airbox" Corvettes, making it truly one of a kind.
"This car is so rare that even the most-dedicated Corvette hobbyists have never seen anything like it," Connell said.
"The probability of us finding a car like this is unbelievable," said Lauman, 66, of Colerain Twp. "I wouldn't equate it to finding the Holy Grail, but it is kind of like that in an automobile sense."
Journal-News: Dayton, Ohio, news and information
Must say I absolutely LOVE the barn finds! Another I saw on SPEED was an old Shelby Cobra championship car that was stashed away inside a secret vault constructed in the basement of some random house. IIRC they were remodeling the basement when they noticed a wall was made of brick vs stone and found some loose blocks.

03-18-2010, 02:37 AM
Senior Member
Join Date: Jul 2009
Location: Batavia, IL
Posts: 601
Total Cats: 0

---
That brings a tear to my eye. All those beautiful cars in unrestored shape, almost half of which I did not know existed. Someday I dream of owning and restoring an Opel GT.

My favorite is the Bugatti barn find

03-18-2010, 02:56 AM
Elite Member
Join Date: Jul 2009
Location: Gainesville,Fl
Posts: 3,319
Total Cats: 7

---
Just read thru a thread on a classic corvette forum a where they are like wtf is an airbox corvette. That must be a very very rare car indeed.
I wonder how much it would go for at a Mecum auction or something.

03-18-2010, 09:31 AM

---
In the mid/late '90s we were looking for another Corvette and I used to visit Pro-Teams website to look at their inventory. They had a page on this car (not much good info here):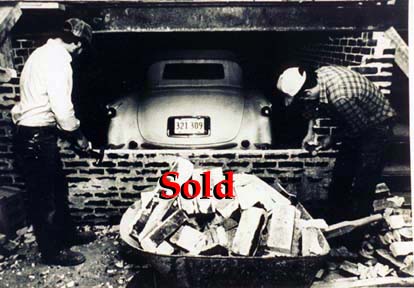 This is the "Entombed 1954 Corvette" that was entombed for nearly three decades
and recently sold by ProTeam.
This 1954 Corvette spent twenty-seven years sealed in it's tomb of bricks and mortar within a grocery store in New Brunswick, Maine where Millionaire Richard Sampson owned the store and the Corvette.
The 1954 Corvette is all original - - the odometer reads only 2331 actual miles but the story doesn't end there. This store was built with an extra room... a brick vault that was home to the White 1954 Corvette for over a quarter of a century. It was his wish in Mr. Sampson's will, that the car remain sealed in brick until the year 2000. However, under new ownership in 1986, They asked that it be removed and returned to the family. Richard's daughter, Cynthia Sampson then took it to Florida and parked it in her living room for approximately 10 years.
This Corvette will be displayed with a placard in honor of Mr. Richard Sampson which was part of the acquisition negotiation with Mr. Sampson's daughter, Cynthia. It is probably the oldest lowest mile unrestored Corvette in the world. Bloomington Gold invited this 1954 Corvette to be displayed in the 1996 Special Collection XIII... "The Classics 1953-1962."

03-18-2010, 09:45 AM

---
Thread
Thread Starter
Forum
Replies
Last Post