I want a WRX

02-19-2008, 12:31 PM
Senior Member
Join Date: Dec 2007
Posts: 672
Total Cats: 2

02-20-2008, 09:15 AM
Elite Member

Join Date: Jun 2006
Location: Chesterfield, NJ
Posts: 6,555
Total Cats: 273

---

02-20-2008, 09:36 AM
Senior Member
Join Date: Jun 2006
Location: Wisconsin
Posts: 1,266
Total Cats: 7

---
My dad and I put an AVO turbo kit on a 2003 Impreza 2.5TS a few years ago. It was pretty sleeper, and a blast in the snow with blizzaks.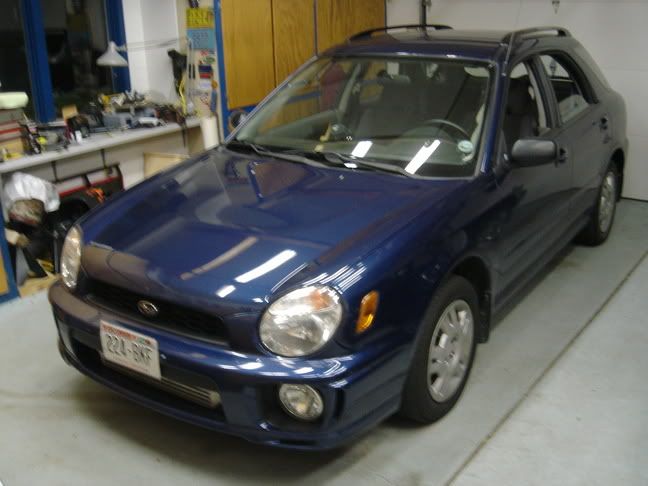 He eventually put it all back to stock after months of frustration with tuning the Link ECU it came with, and my car now uses the turbo, intercooler, and miscellaneous pipes from that kit.

02-20-2008, 09:05 PM
Junior Member
Join Date: Feb 2008
Location: Silicon Valley
Posts: 51
Total Cats: 0

---
The WRX seems to be a really misunderstood car.. in some ways, not unlike the Miata.

It's not (meant to be) a 1/4 mile car... blowing up the trans on a hard launch? I'm pretty sure I didn't see an "SS" badge on the car. Now granted, people have made their WRX/STi/Miata/etc. go like a bat out of hell in a straight line, but it's not the ideal platform for it... take another car and spend a comparable amount of money, and you'll beat it in the 1/4 mile every day.

Evo vs. STi? The Evo is a more tuner-friendly car. That's the business decision Mitsu made, and they've been careful to make sure the Evo will consistently win, off the showroom floor.

That said, I love the WRX, for what it is, just as I love the Miata, for what it is. The Miata is a great go-kart, and the WRX is a blast in the snow... though take many jumps like that, and you'll quickly learn why they use the RS in rally driving.

Best example of the WRX in snow? Went to Lake Tahoe in the winter, over the pass, with T1-R's on 18" rims. Had absolutely no business doing that on any car, without chains, but had no chains in the trunk (yet) and wasn't inclined to turn around before the pass was closed. They saw a Subaru and waved it on thru. Had absolutely no problems going over the pass, and made it 95% of the way up the hill to the hotel. Mind you, this was a relatively steep hill, snow had been cleared earlier in the day but not recently, so what was on the ground was slush covered with fresh snow... lost traction a few times, but kept on going, until finally got stuck.

The point? You show me how many cars can make it up the hill, in the snow, wearing low-profile T1-R's. In that price range, it's probably going to be a Subaru.
Thread
Thread Starter
Forum
Replies
Last Post