Stupid Typing Test Thread

08-15-2012, 01:59 PM

---
I swear to sweet baby Jesus that this thing just can't keep up with me... I have to keep looking like 3 words ahead on the bottom row as I'm typing the last word on the top row so when it swaps and goes blank for a second, I don't have to stop.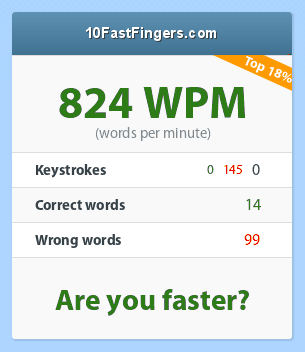 08-16-2012, 02:10 PM
Supporting Vendor


Join Date: Nov 2006
Location: Sunnyvale, CA
Posts: 15,010
Total Cats: 1,819

---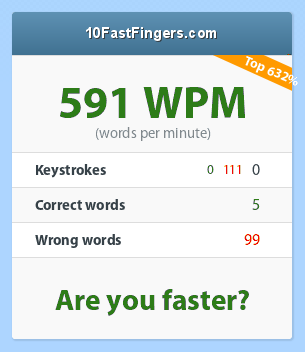 Mediocre.
__________________
Trackspeed Engineering
High-Performance Turbo Specialists - Sunnyvale, CA - 650-701-7223 -
Email us!

08-16-2012, 02:59 PM
Junior Member
Join Date: Feb 2011
Location: Chicago
Posts: 345
Total Cats: 6

---
How are all of us in the top 95% of folks that took this test? This is fun though. I type faster when I am just retyping what I read. I slow down when I have to spell. I don't spell well because I be dumb.

08-16-2012, 03:30 PM

---
Even in 1080p video, my fingers move so fast you can't really see them... you'll have to take my word for it that I'm simply the fastest typer on mt.net.
It's just like the Matrix up in here in my office!
Thread
Thread Starter
Forum
Replies
Last Post
Suspension, Brakes, Drivetrain
Suspension, Brakes, Drivetrain