First Alfa Romeo 4C in Hawaii!

03-23-2015, 01:36 AM
Junior Member
Join Date: Dec 2013
Posts: 216
Total Cats: -282

First Alfa Romeo 4C in Hawaii!
---
Showed up at the local autocross today. It has only 500 miles so the owner didn't race it today but it will be broken in by next weekends test and tune so I'll be making a video or something to celebrate first racing 4C in Hawaii

One thing I learned, the beauty of this car is not something you can understand from pictures. You really need to see it with your own eyes. It looks like a WILD ANIMAL!


04-03-2015, 02:54 PM
Moderator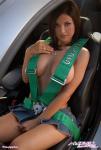 Join Date: Nov 2008
Location: Tampa, Florida
Posts: 19,270
Total Cats: 2,432

---
I'll never get to ask Hinano what he meant when he said it looked like a wild animal. A wild animal like a gopher? A turtle? A squirrel? Or maybe an emu?


It has been said that communication is an art.

I guess he still draws stick figures.