A Crazy Cajun

03-03-2019, 01:21 PM
Newb
Join Date: Mar 2019
Location: Mandeville, LA
Posts: 2
Total Cats: 0

A Crazy Cajun
---
Hey guys,

Just getting started here. Bought a 2006 Miata with an Automatic last Aug as a weekend toy. Lately, I have been thinking about putting a turbo on it and have just started with the research. Looking forward to talking with you all and maybe even meeting up with some of the local Miata owners around the New Orleans area.

Just a little about me, I am a Navy Vet. Served 6 years as a Nav ET on Posiden/Trident Subs. Currently I work for OPEX as a Service Tech, I am married and have two daughters who live in Nashville. My first car when I was 16 was a 69 Plymouth Barracuda. I got interested in the Miata when a friend of mine got one and he let me drive it. One of the first things I am going to start researching is what I am going to have to do to the Transmission if I boost this to somewhere between 250 to 300 HP. I haven't done a compression check yet, but that is also on my list of things to do.

03-03-2019, 02:23 PM
Moderator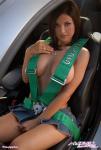 Join Date: Nov 2008
Location: Tampa, Florida
Posts: 19,047
Total Cats: 2,396

---
Welcome to the forum. We've got a few Navy guys here but I don't recall any from the silent service.

There's a few modded NC's around but not nearly as many as NA's or NB's.
Thread
Thread Starter
Forum
Replies
Last Post