Drummersrs old Miata, new to me

09-05-2015, 09:26 AM
Newb
Join Date: Dec 2013
Posts: 19
Total Cats: -8
Drummersrs old Miata, new to me
---
Hey guys! I recently bought a 94 Boosted Miata from a guy in Philadelphia, and after poking around on the Internet, I found out that the old build thread was on here! Anyway I thought it was cool to see my car be built and know exactly what has been put into it. I plan on continuing to modify it, race it, drift it, and enjoy every second I drive it. How many people remember this car? Here's some pics of it since I bought it.

09-07-2015, 11:40 PM
VladiTuned

Join Date: Apr 2008
Posts: 35,141
Total Cats: 3,145

---

09-08-2015, 10:15 AM
Moderator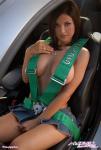 Join Date: Nov 2008
Location: Tampa, Florida
Posts: 18,916
Total Cats: 2,364

---
Drifting isn't about using tires. Drifting is about wrecking cars.

Besides, the Miata is a terrible platform for drifting. The low polar moment of inertia makes them terrible for holding a drift angle. It's like trying to tap dance with one leg in a cast - sure you can do it a little but the guys who aren't handicapped will kick your *** everytime.

09-08-2015, 12:26 PM
Newb
Join Date: Jul 2015
Location: Eastern NC
Posts: 32
Total Cats: -1

---
Oh, I completely agree. The Miata wasn't designed for that kinda stuff. I personally think drifting is a waste of time and money. But to each their own, if that's what gets your socks off. I was merely stating that in the course of wrecking a vehicle, you will most likely burn through a mountain of tires aka cash.
Thread
Thread Starter
Forum
Replies
Last Post