Just signed up....

01-29-2010, 02:58 PM
Cpt. Slow

Join Date: Oct 2005
Location: Oregon City, OR
Posts: 12,797
Total Cats: 687

---
And edit your sig to say your year, engine, and any important mods you may have. Wouldn't know unless I reread your first post in this thread, I kept thinking you had a 1.6.

01-29-2010, 03:22 PM
Moderator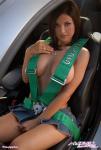 Join Date: Nov 2008
Location: Tampa, Florida
Posts: 19,110
Total Cats: 2,406

---
And forget about running those larger injectors with a piggyback AEM. Piggyback means the stock computer still handles everything out of boost. That means your stock computer won't run your engine with 400-550cc injectors. Get a standalone MegaSquirt from Braineak (read the sticky in the for sale section about them) and you can run any reasonable size injector you would like.

But you've done this all wrong from the start. You bought parts and then started to research. I would really like to see you read and study here and read some ongoing discussions for about six months before you bought anything else. But you seem to have a short attention span and I don't know if you can be patient enough to really develop a plan. I hope you find the answers you need before you spend any more money.

Did you say you bought a turbo already? Would you please link to the ad for the particular one you bought?

And yes, your Ebay intercooler will still work if you bought the right size. The ebay Chinese blow off valves are notorious for leaking and/or being unreliable over time.

12-17-2018, 12:34 PM
Design Engineer

Join Date: Jan 2013
Location: Seneca, SC
Posts: 3,573
Total Cats: 478

---
ryansmoneypit
And really, everyone on MT.net:
Click:
Your name (top right of screen)
User Control Panel
Edit Options
Related Threads
Disable Related Threads
Save Changes
Thread
Thread Starter
Forum
Replies
Last Post