New in Atlanta GA

02-09-2013, 02:07 PM
Newb
Join Date: Jul 2012
Posts: 32
Total Cats: -2

New in Atlanta GA
---
Hey I'm Brandon. I have an 04 MSM. Been a lurker here mostly but thought it was time to introduce myself.

Current mods are MS3, 3 inch catless exhaust, hks BOV, DIY intake, no name Intercooler.

02-10-2013, 02:52 PM
Newb
Join Date: Jul 2012
Posts: 32
Total Cats: -2

---
Incredible difference! I'm completely new to tuning and am learning as I go. I've got a decent base tune. Still have to play with my ignition table in high boost (slight knock not audible but timing retards because of it and check engine light comes on to let me know it did) and get my EBC working right (stuck at 6 psi). I just bought 1000cc injectors off a forum member so they will be in soon. I believe I can get it 80% of the way tuned myself. Might get a shop to finish the final details though. Anyone have any recommendations in GA?

02-11-2013, 06:53 PM
Moderator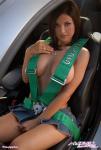 Join Date: Nov 2008
Location: Tampa, Florida
Posts: 18,571
Total Cats: 2,291

---
Get Tunerstudio and buy the upgrade to get VE Analyze Live. It will tune your fuel map to match your targets while you drive. If you set your targets well, everything will be fine. You really won't need a tuner. Copy some of the other ignition maps for small turbos that people are running. Small turbos build more heat sometimes than big ones so the boost timing needs to back off a bit compared to big ones. Be careful that others have similar compression ratios to yours as lower can run more timing than higher compression.

02-11-2013, 07:31 PM
Newb
Join Date: Jul 2012
Posts: 32
Total Cats: -2

---
That's exactly what I've done so far. The ignition table has come a LONG way. I've tinkered with it after finding a table for a 1.8 with a MSM turbo on it. I planned to continue tuning it after I get my EBC set up correctly and injectors installed. Ill get them in as soon as they come in the mail and try and export some logs and get input.
Thread
Thread Starter
Forum
Replies
Last Post
Miata parts for sale/trade
Local Meets, Events and Tech Days