Thought I'd go ahead and register just so I can do more research and get ideas for my old slug.
A little about me...
I started out in the Miata crowd back in '05 when I bought a 2002 Miata, Classic Red, 5-speed, basic. I had it nearly five years before trading it in January of 2010 for a brand new Nissan Cube. The '02 was pretty much stock except for the full removal of the stock ground effects, an R-Speed intake, RB muffler, front and rear shock tower bars and some gold Rota wheels that I traded out right near the end for a similar set of XXR's in "hyper silver".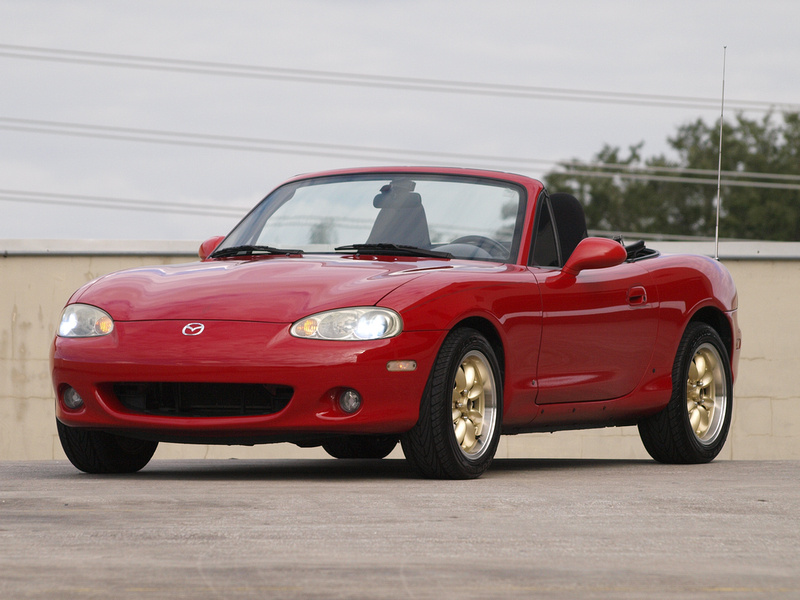 Then in January of 2011 (almost exactly a year later), I bought the '91 BRG, all original inside and out, and 62k miles on the clock. The same day I received the Miata, I put in my JoyFast "Tall" shift ****. Shortly after, I replaced the old sealed beams with Bosch E-Codes and H4 halogen bulbs. I then replaced all the belts, hoses, seals, radiator, timing belt, water pump, OEM clutch, F1 9lb flywheel, master and slave cylinders, clutch hose (got rid of rigid line going to slave), and Magnaflow hi-flo cat. It came with '95 door cards and seat belt brace already installed. I also swapped out the original dash to a mint '97 black/tan one.
Oh, almost forgot that I also swapped the stock NA Daisy wheels for 14" NB wheels. Also got the real JDM speaker kick panels.
Waiting to be installed I have a full Megan Street (not the EZ ones) coilover setup, Mazdaspeed Comp motor mounts, Hawk HPS front pads and an OBX 4-2-1 stainless header (which is arriving in a couple days).
One day I might go boost when I get a local job and get the Cube paid off, but for now I'm just going to focus on general maintenance and improving the aerodynamics for better fuel economy. Since I log nearly 600 miles a week and gas prices are on the rise, every little bit helps. I'm averaging about 32mpg with a best of almost 37mpg. Within the past 5 months of ownership, I've already put another 10k+ miles on the BRG.
Anyway, a few pics...