New member, new Mx5 owner.

11-13-2017, 03:23 PM
Newb
Join Date: Nov 2017
Location: Vilseck, Germany/Knoxville, TN
Posts: 2
Total Cats: 0
New member, new Mx5 owner.
---
Hello, how's everyone doing. I'm about to turn 22 and have been driving cars since I was 16, I've driven different kinds of cars, rwd, fed, awd, turbo, n/a, supercharged, import, domestic, so I've covered the basics. This is my first Miata though! I picked up a relatively stock 1994 Eunos Roadster S-Special off of a guy, ran great, still does. Side note, I'm stationed in Germany with the army but I'm from Knoxville Tennessee and I go back to the states the exact month my little Roadster turns 25!
The car had nrg hub+quick release, wheels(crappy ultralites that need to be replaced still) hardtop, and HSD coilovers when I bought it, relatively stock, but a good start! I've only recently started buying some bits and pieces for it, like the Zerekfab double diagonal roll bar, some other chassis stiffening bits and pieces, and that's about it really! From what I've read when I import it the engine has to be stock(or atleast look stock) to be EPA exempt even though their law is 21 years.(correct me if I'm wrong, but only with personal experience not "I know a guy who imported a rb25 Civic!!!" Please)
Oh! Should probably include the Roadster is a bit on the more rare side, most S-Specials were black, while mine is Laguna Blue Mica!
i was always one of those guys who slept on Miatas thinking they couldn't be fun, but BOY was I wrong! I love every bit of this car.
Looking forward to being more active on the forum as time goes by!

11-14-2017, 09:49 AM
Moderator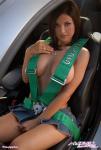 Join Date: Nov 2008
Location: Tampa, Florida
Posts: 17,591
Total Cats: 2,003

---
Welcome to the forum.

There's a lot of experiences and information housed within this forum. The build threads are full of do's and don'ts and practical experiences.

Where are you stationed in Germany?

11-16-2017, 04:26 AM
Newb
Join Date: Nov 2017
Location: Vilseck, Germany/Knoxville, TN
Posts: 2
Total Cats: 0

---
Sixshooter I'm in Vilseck Germany!
sadly no pets allowed in the barracks, but pics I can do!
dont have any pictures with the zerekfab bar, it's being powder coated.
My friend who's good at doing videos made a quick little 39sec clip of it, I'll find it and add it to this post
---
Last edited by Eunos94Roadster; 11-16-2017 at

04:30 AM

. Reason: Add video