Noob from Arizona, Hi Richard here!

12-15-2016, 12:34 PM
Newb
Join Date: Dec 2016
Posts: 1
Total Cats: 0

Noob from Arizona, Hi Richard here!
---
These forums are very new to me, but I will learn how to communicate! I do all my own repairs, modifications and maintenance. At 70 I am still overloaded with Projects!
Just Purchased my first Motorhome (Diesel) and my First Miata 2003, 5 Speed, W/100K Miles, car seems to be in GOOD shape! I have changed most of the fluids, and the front brakes, the rear end is next.

My first project is design and install a 4 down flat tow system, as this will be my TOAD for the Motorhome, ALL COMMENTS are appreciated, and welcome, I need all the help I can get.
My research on towing a 5 speed has brought very mixed opinions, comments?

Thanks Richard
P. S. My past sports cars were, in 1963 purchased totalled 1954 Corvette, and in 1976 purchased a 1977 Corvette and placed 150K plus miles on it, was a ton of fun!!!!

12-15-2016, 10:12 PM
Senior Member

Join Date: Nov 2015
Location: Berkeley, CA
Posts: 748
Total Cats: 187

---
Lots of people have anecdotes about their cars being fine, but officially you should disconnect the driveshaft to flat tow with a 5 speed. They are only lubed when the input shaft rotates.
The 6 speed is fine for flat towing.
I have Roadmaster tow bar and Miata baseplates (711-2) for sale

12-16-2016, 11:51 AM
Moderator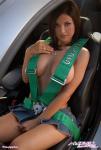 Join Date: Nov 2008
Location: Tampa, Florida
Posts: 17,591
Total Cats: 2,003

---
I have used a tow dolly for years dragging the car as far as 9 hours then abusing it on the track and dragging it home. Multiple years and multiple tracks a year. No 5 speeds were harmed in the making of this film.

12-16-2016, 03:15 PM

12-16-2016, 04:33 PM