This weekend I decided to go back to an MBC, after getting fed up with the moody behavior of a boost solenoid via Megasquirt. I decided the hassle of the EBC just isn't worth the benefit of throttle position settings.
I mentioned this to Paul, who said he's been considering the same thing. He had a great idea: we can use the boost solenoid TPS option as a way to activate the MBC! So you get the best of both worlds.
I sorta-kinda understood, so Paul made this useful diagram: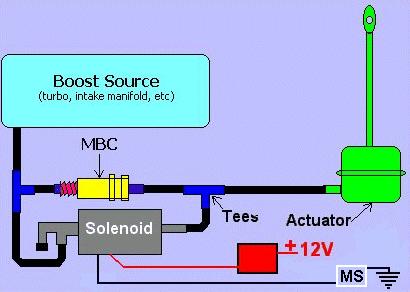 What we'll do is set all the top rows in the EBC table to 100%, and all the bottom rows to 0%, with the change at any percentage (for example 30, 40, 50) .... that way you have just actuator pressure at first (with the solenoid letting pressure pass through, effectively creating a "massively leaking" MBC) followed by 100% MBC pressure with the solenoid blocking the bypass route.
This is a very simple and very clever idea.