Idle issues with new MS3 install

03-14-2016, 08:44 PM
Newb
Join Date: Aug 2014
Location: CA
Posts: 31
Total Cats: 1

Idle issues with new MS3 install
---
I recently purchased an older MS3 Basic second hand and I'm having trouble getting the idle set up correctly in my 1994 NA with only a Racing Beat exhaust. To recap what I've done so far, I've installed an MTX-L and wired it up to the MS3 Basic, installed the MAP line to a capped port behind the throttle body (will tee off the FPR soon), and left the MAF in place due to using the OEM intake for now. I managed to start the car with another persons MS3Basic basemap (the previous owner had a turbo car) and set it to Fixed Timing at 10 degrees and used the Trigger Wizard offset tool + my timing light to set base timing to 10 degrees BTDC. I believe the offset required was 6 degrees.

I attached my log and you'll see that the idle RPM is really low. I emailed Dimitris and he suggested checking if my idle valve was functioning because of the low rpm idle but maxed out idle valve (not sure how to see that in the logs). I can hear the idle valve buzzing with the ignition on/engine off which he asked me to check. Does anyone else have any suggestions? I believe due to the time difference I'll have to wait for other suggestions from Dimitris himself.

Thanks.

03-15-2016, 01:14 PM
Moderator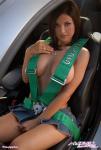 Join Date: Nov 2008
Location: Tampa, Florida
Posts: 17,918
Total Cats: 2,105

---
I adjusted the CAS to zero in my timing with the light, myself.

Are you certain the TPS was calibrated? Are the MS settings set to use the MAF? Wideband properly calibrated? Injector deadtimes?

03-15-2016, 03:05 PM
Newb
Join Date: Aug 2014
Location: CA
Posts: 31
Total Cats: 1

---
I've done a few more hours of reading/testing and I've made some progress. Sorry about posting a bit prematurely, should have figured my first MS install would require some time.
I followed the instructions that come with the MS3Basic to set timing. Basically set it to "Fixed Timing" at 10 degrees, adjusted in Trigger Wizard the offset angle until my timing light showed my 2 timing marks on the crank pulley at roughly "10" and "T".
TPS was calibrated. As for the MAF settings, I am unsure what needs to be changed specifically. I have the "Control Algorithm" set to MAP (speed density) so I am assuming that the MAF in my OEM intake is just being used for IAT readings.
Wideband has been free air calibrated and when used with the OEM ECU made perfect sense. I'm having about a 0.5 point difference between the MTX-L gauge and TunerStudio. I need to rework some grounds or look into adjusting the "Calibrate AFR Table" options to temporarily account for it.
Injector deadtimes was set to 0.9ms. I'm not sure if that's correct but I'll look into adjusting it.
As for my idle problems now, it seems to work fine in "Open Loop" mode once warmed up and after I let the VEAnalyze work with it. I did move the idle screw about 1/4 turn so that the idle is around 800rpm now instead of 600rpm. However, one strange thing is that when I initially followed this guide (
Mega Miata: Basic idle settings
) and I attempted to do the "Output Test Mode - Idle Valve", and I'm not sure if my Idle Valve is behaving correctly. After hitting "Start Testing", no matter how many times I hit "Stop Testing" the button never changes back to "Start Testing". In addition, my PWM Idle Duty values start moving at 0%, and go all the way to 100%, which doesn't seem likely. However, I need to keep hitting "Enable Test - Run Position" after each increment.
Also, should my Valve Frequency be set to something lower? I'm setting mine to 204Hz because in another post it was confirmed to be 170Hz, not close to 372Hz as shown in that link.
I'm going to try use this post (
https://www.miataturbo.net/megasquir...me-help-57133/
) + the blog post to see if I can get things sorted out.
Thread
Thread Starter
Forum
Replies
Last Post