MSM COPS project build thread

07-26-2009, 01:24 AM
Senior Member
Join Date: Jun 2006
Location: Springfield, NJ
Posts: 667
Total Cats: 0

MSM COPS project build thread
---
A while ago I posted for advice on putting COPS in an '01+. The thread is here:
https://www.miataturbo.net/forum/t32827/
.
Today I dragged my increasingly fat *** to the proverbial Ambition Store, where I finally got a round tuit.
Started around noon today and intentionally worked very slow and carefully, vs. my normal approach of rushing and doing sloppy work .......
I removed the strut bar, original two coils, spark plug wires, etc., and test-fit the four new coils (from an Infiniti, as explained in the previous thread.)
Went to hardware store in another car; bought some sheet metal for the mounting device and assorted machine screws, nuts, etc. .... got home and made a cardboard mock-up of the mounting device.
Hence the first miracle of the project: my measurements tend to be off by a little, and this time my drilling was also off by a little in the opposite direction, resulting in a friggin' perfect hole location! It's amazing!!
Here's the first picture from the driver's side (pardon the quality, it's from my BlackBerry 8330):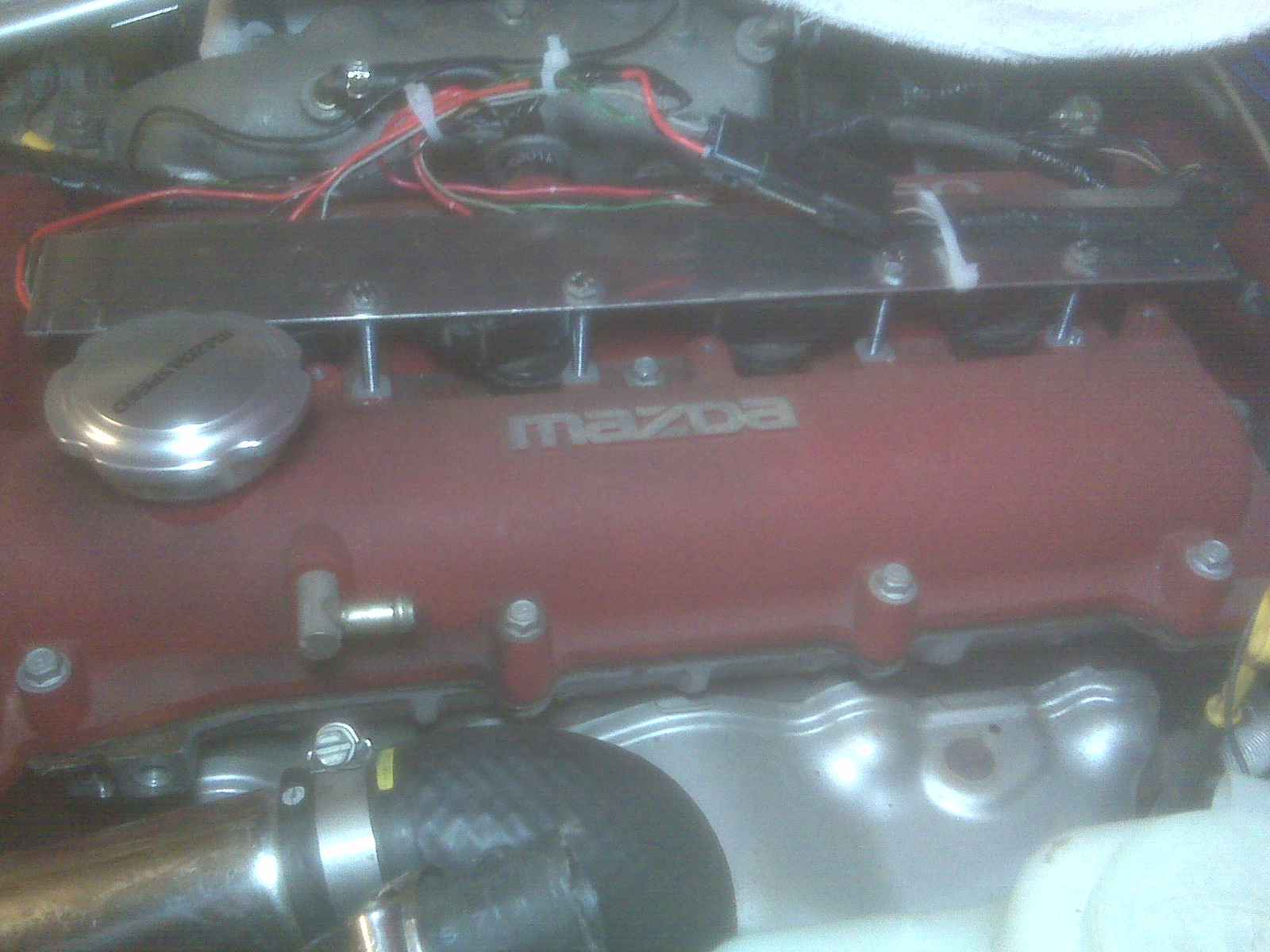 The mounting device is not transparent; what you see on top is just a reflection.
The four bolts (M6, 1.00 pitch, 2") use the existing four holes from the stock coils. I did not expect that to align; figured I'd have to rig up new mounting locations .... that was miracle two.
You can see that the stock coil locations are offset to the driver's side. I was concerned about this, but it all went together firmly, so I think it'll be okay.
Here's the view from the passenger's side: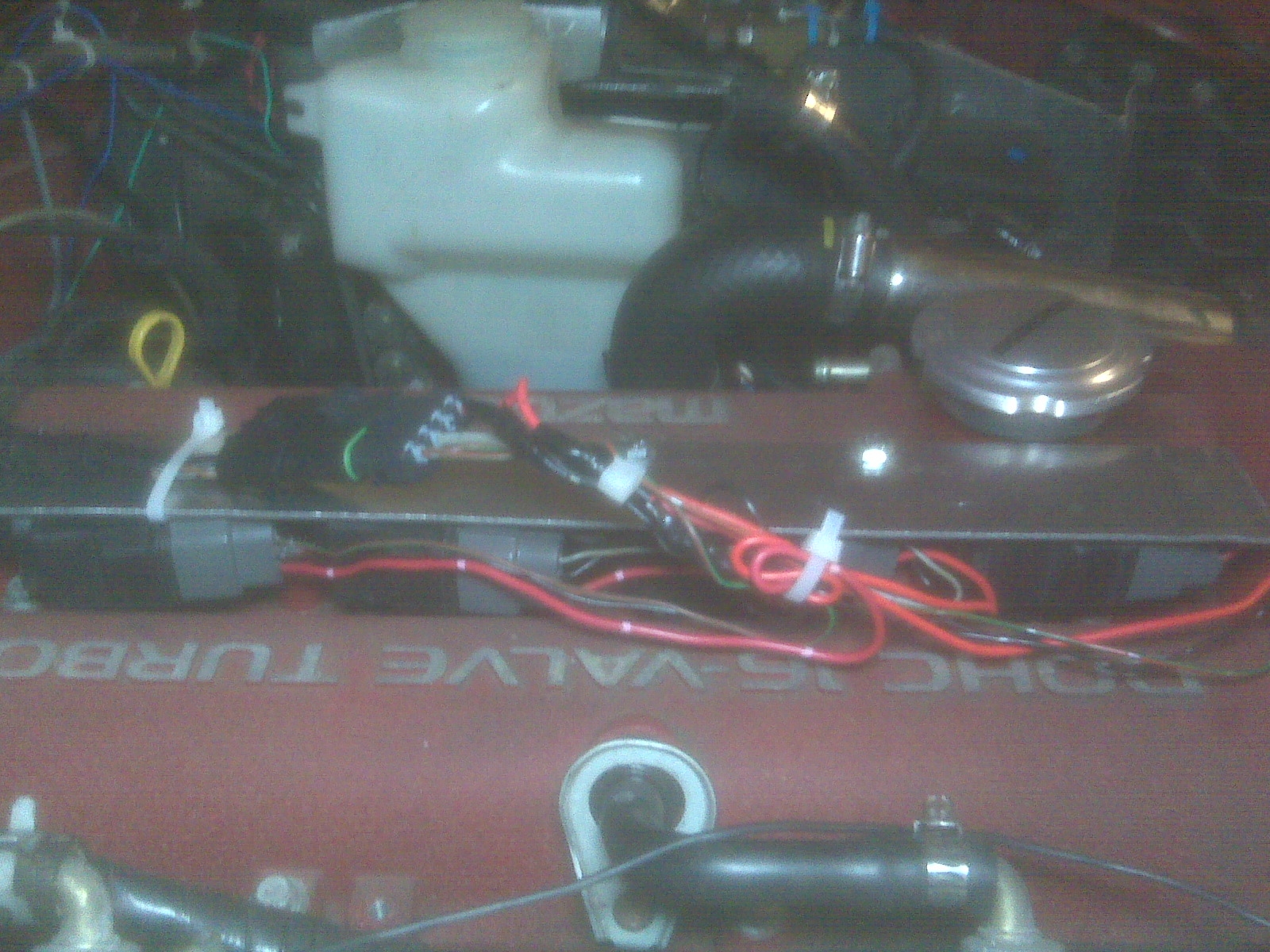 The coils were all facing the same direction for the first test-fit, but I had to turn some of them to get the connectors to fit. I might be able to realign them all if I Dremel off the Infiniti mounting tabs. That's a project for another day. For now I'm just glad it all fits together. Meanwhile I put some double-faced tape under the mounting device to serve as a cushion.
Next up was the wiring. It's all quite ugly, and some other time I will attempt to make it look nice. I used weatherpacks for the main connector after cutting off the stock connectors. I have a second set of weatherpacks that I'll use for reconnecting the stock system (yet another project for some other time.)
Including a couple of breaks, I wasn't done until 9pm. I did the work in my parent's garage rather than my driveway at home. Problem is, only old people live here, and they'd freak out if I start testing things (engine on) after dark. Car is loud thanks to TurboTim Absurdflow.
So the bottom line is I can't test all this work until tomorrow morning. The suspense is killing me!! I'll triple-check the wiring, fire 'er up, and if all goes well then I'll try expanding the spark plug gap (currently a minuscule .020) and hopes it no longer misfires/resets under high boost at something more reasonable like .030.

07-26-2009, 10:40 PM
Senior Member
Join Date: Jun 2006
Location: Springfield, NJ
Posts: 667
Total Cats: 0

---
It's official: if you held a soldering skills contest between me and a retarded baboon, the smart money's on the baboon!
Today's results were the opposite of yesterday's: a comedy of errors.
First I couldn't get my laptop to connect to MS. Turned out the engine fuse blew because I wired power and ground in the wrong order for the COPS.
Still couldn't get the car to start, so I took apart all the wiring and started over. Again, no luck. It cranked and cranked but wouldn't start.
I decided to deal with COPS some other day and go back to stock wasted spark for now (it was getting late). So I re-attached the stock coils and wires .... same result .... lots of cranking, no engine start.
Paul tried to help me over the phone. We were convinced the problem was a flooded engine. Tried clearing it, tried cleaning the plugs, then tried all-new plugs .... nothing worked.
I checked with another MSM owner to verify my wiring. Turns out I had the 1/4 coil attached to the 2/3 connector, and the 2/3 coil attached to the 1/4 connector.
So why didn't I notice this sooner? Because it wasn't my fault!!! Reality on this car is the OPPOSITE of what Braineack posted here:
https://www.miataturbo.net/forum/t12704/
.... car finally started after several hours of frustration, multiple desperate calls to Paul, and more than a few dollars spent on parts that I didn't need.
On the other hand, I could SWEAR that Brain's diagram was correct .... it shows the brown wire with yellow stripe going to 1/4 and the lighter shaded brown wire going to 2/3 .... I'm 99.999 certain that it the correct stock configuration. A third MSM owner told me that's how his is set up by the factory.
So, why the hell - or rather HOW the hell - did mine get backward ?????
I'll quadruple-check the wiring sometime when I'm refreshed, but for now it seems like a goblin in the system.
Braineack: you didn't know this, but I was cursing you in my parent's garage today when I got the car to run and decided your diagram was wrong.
Sorry!! As with the retarded baboon reference above, the "smart money" here is that yours truly screwed up somewhere.
The GOOD news is, now that I know the correct wiring order, I'm convinced the COPS setup will work the next time I attempt it.

09-25-2009, 12:12 AM
Senior Member
Join Date: Jun 2006
Location: Springfield, NJ
Posts: 667
Total Cats: 0

---
Soooooooo .... I finally got back to the COPS project today. Basically re-wired it from scratch. Burned the new dwell settings, opened the plug gap, and this time the car started on its first try!!!
But I didn't have a chance to drive anywhere and see if my high-boost misfires are gone, because I also (apparently) now have ANOTHER bad injector. Paul sold me one of his spares and I'm going to install that tomorrow morning.
Trend: not that I really know what I'm doing with the injector installation ...... but the way I became a computer guru is by trying stuff and seeing what happens.

09-27-2009, 11:26 PM
Senior Member
Join Date: Jun 2006
Location: Springfield, NJ
Posts: 667
Total Cats: 0

---
Update: I screamed "Success!" too soon.

Had some time yesterday for a test drive. Car refused to go beyond 3000 rpm without severe bucking. So today I switched back to stock (again!) because I need reliable transportation.
I have no plans to try COPS again until next spring. Too many other priorities right now.
But I have to wonder what went wrong. I know I had them wired right, and I know the coils work, because the car fired up with authority and drove fine up to 3000 rpm.
Why didn't they work beyond that ????? Anyone have a credible theory?
I know the Infiniti coils aren't popular for our cars, but Infiniti = Toyota, and those are very popular, so I didn't expect any trouble.

09-28-2009, 12:10 AM
Senior Member
Join Date: Jun 2006
Location: Springfield, NJ
Posts: 667
Total Cats: 0

---
Doh .... you're right, I was thinking of Lexus.

Regardless, if the coils all work, and I have the correct dwell numbers from Jason, then what could've caused such a major problem as not getting beyond 3K rpm without bucking?
Thread
Thread Starter
Forum
Replies
Last Post
Suspension, Brakes, Drivetrain