FS: (5) 4x100 15x10 Basset Racing Wheels w/ Lugs, near New, MI 48220

12-08-2018, 07:28 AM
Newb
Join Date: May 2014
Posts: 30
Total Cats: 3

FS: (5) 4x100 15x10 Basset Racing Wheels w/ Lugs, near New, MI 48220
---
Selling because these do not clear my 11.75 Superlite BBK. They do clear the 11'' Stopteck BBK, not sure about the Dynapro/Dynalite, happy to make measurements.
​(5) Basset Racing D-Hole wheels in 15x10 size and with a 4x100 bolt pattern and 6'' backspacing (ET25) in Grey color. This is a Miata fitment. Fit tires 225-275 width, with 245/40/R15 being a near-optimal size. A couple of the wheels have been used for two days, the other three had tires mounted but never used.
Total cost with S&H and lug nuts was $600 new. As mentioned, they've all had tires mounted and a two were used for one weekend. MT price for all five wheels and 20+ lug nuts: $400 OBO. Cash/Venmo/Paypal is fine.
These wheels require 45 degree lug nuts and a full set with spares will be included.
Weight is about 20 lbs per wheel. About 5 lbs more than an aluminum wheel but 1/2 the cost, much tougher, and available on short notice, which is great for anyone who races regularly or has multiple sets of wheels.
Thanks!​​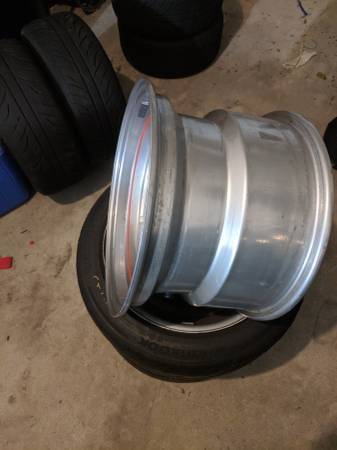 ​​​​​​​
---
Last edited by cwatson; 01-20-2019 at

01:05 PM

.

12-10-2018, 02:40 PM
Newb
Join Date: May 2014
Posts: 30
Total Cats: 3

---
Kevin
Tires are shared with our Chump Car. We have a lot of tires and wear is all over the place. Are you looking for a decent set (50%+ life) to last a while or something cheap to get you through a weekend or two (track days not enduros)?
Age and heat cycles are unknown but we haven't observed the RS4 to be sensitive to either (or go through them so quickly we never noticed). We have managed to overheat them in hot enduros on tighter tracks but they stay fast until the tread totally disintegrates, which is rare. I wouldn't plan to run a set of the tires I have to offer on a civilized street car.
As for price, good tires are worth their tire rack cost to us (prorated to 2/32''). I want to get rid of the wheels so good tires on these wheels are cheaper. Low tires are much less valuable, maybe even free, but I'd need a better understanding of your needs to give you an exact number.

Thanks,
Chris

www.facebook.com/GuarinoWatsonRacing
​​​​
---
Last edited by cwatson; 12-10-2018 at

02:52 PM

.

02-06-2019, 09:45 AM
Newb
Join Date: May 2014
Posts: 30
Total Cats: 3

---
The price does not include shipping. I'm open to shipping them, but the initial quote from UPS $35-40/wheel, which would make it a better bet to get them from Basset directly. If you want to quote shipping: box dimensions are ~16x16x12 (bare wheels) and est. 20 lbs per, shipping from MI 48165, commercial.

-Chris
Thread
Thread Starter
Forum
Replies
Last Post
Miata parts for sale/trade
Miata parts for sale/trade
Miata parts for sale/trade
Miata parts for sale/trade
Miata parts for sale/trade