Mike @
Autokonexion
is willing to make his extraction hood withOUT the additional small gill vents on each side of the valve cover area. The hood will be identical to his current hood (pictures shown below) with the large extraction vent behind the radiator, but no additional vents. This is perfect if you wish to cut the hood closer to the rear corners and add some drop in vents - or just leave it with no additional vents - it's up to you.
Mike gave me the thumbs up to post a GB for this, however it will
ONLY
happen if he gets at least
FIVE
people that are willing to
PRE-PAY
. That said, we only need 3 more and it appears likely we will get 2-3 via the CR.net forum very soon so if you want in on the GB post up or PM me asap as we will likely get this rolling by next week and once the group buy is closed the price will increase.
Also, he will NOT make this hood for us unless we get this GB rolling, so POST UP if you have the $ NOW and want to join in on this GB.
Once he makes the mold, it can be made in either fiberglass or Carbon fiber. It will take him ~ a week to make the hood and then ~ another week to make the mold. Then he should be able to pump out several hoods each week.
Pricing:
$320 for Fiberglass
$420 for Carbon fiber
+ shipping and handlling fees. California residents are subject to 7.75% tax. The prices above are
ONLY
good for the group buy & again, once the first run is made there will be a price increase.
CF versions will be wet carbon reinforced with fiberglass cloth. It will be sprayed with an automotive clearcoat. It will also be color sanded and buffed to give it a glossy effect. "IT IS NOT VACUUMED FORMED." This will be layed carbon fiber.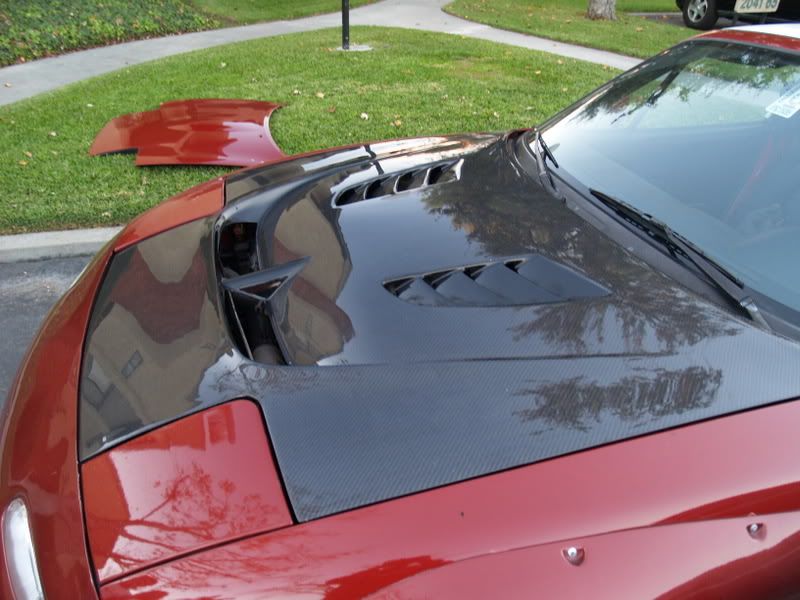 pictures of the underside of his CF and fiber pieces:
Thanks,
Mike Hagerla